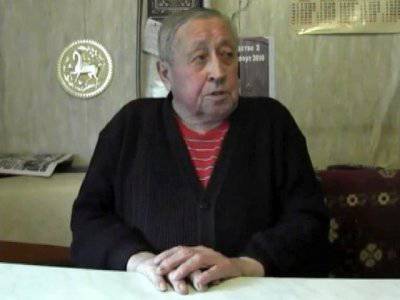 A veteran who fought on the side of the fascists during the years of the Great Patriotic War was found in the Pushkin district near Moscow. For more than 30 years he enjoyed all the benefits of a war veteran and even received medals. The prosecutor's office is preparing to transfer the materials to the court.
There are many questions in this matter that have yet to be answered. While it is authentically known that the prosecutor's office of the Moscow region appealed to the regional court with a request to deprive the title of veteran of the Great Patriotic War of a person living in the Pushkin district near Moscow. "We managed to find out the name of this person - Maslov," said VGTRK correspondent Vitaly Akinshin.
As it turned out, during the Great Patriotic War, this man fought on the side of the German troops. The representatives of the veterans' organizations initiated the appeal to the court.
"Thanks to the indifferent position of veterans' organizations, the prosecution authorities conducted an inspection, during which they confirmed the arguments of the defendant's unlawful receipt of the ID card of the participant of the Great Patriotic War, as well as state awards," said Marina Kaurova, senior assistant to the prosecutor of the Moscow region for media relations.
The request to the General Prosecutor's Office of the Republic of Belarus was answered: 24 June 1942, a man by the name of Maslov, who fought with 11 of the cavalry corps as a liaison officer of the corps headquarters, was captured by the fascists and after interrogation gave the location of his corps officers. From the same documents it follows: in the winter of 1942, he voluntarily joined the ranks of the fascists and led a platoon of the "Eastern" training regiment in Bobruisk. There he was promoted to lieutenant, but already on the side of Hitler's troops.
In 1943 - 1944, a man was part of a punitive battalion in France. In 1944, he was captured by the Americans and asked for asylum, not wanting to return to Russia. The soldier was denied, and he returned to the USSR. He was convicted, served 10-year punishment for treason, was released and did not receive rehabilitation. This did not prevent him in 1980 from obtaining a certificate of a veteran of World War II in the Odintsovo department of the military commissariat of the Moscow region. Those familiar with Maslov say: the veteran lived an active life, attended schools, gave courage lessons, talking about his imaginary exploits.
"I personally, as a lawyer with many years of experience, believe that no one will deprive him of his awards for one simple reason: the statute of limitations on his article has passed," said Lyudmila Kondrashova, chairperson of the Council of War Veterans of the Pushkin District of the Moscow Region.