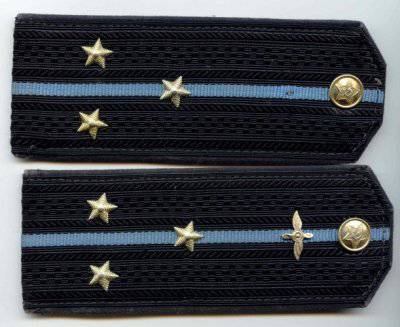 It was during the time of the Great and Indestructible. In one of the regiments arrived lieutenant replenishment, and settled them in a hostel for bachelors. By the way, the hostel was not very bad and, most importantly, outside the territory of the unit and next to the flight-technical canteen. But one day a fire broke out in a hostel with a fire in the room next to the characters of the story. Since the tenants at that time were on the flights, the fire detection was overdue. The lieutenants' belongings suffered from the fire and its extinguishing. Casual and ceremonial came into disrepair, and the field was stored in suitcases on the mezzanine and not hurt. The fire victims were resettled in a garrison hotel where tankers and motorized infantry lived.
But then the autumn has come, and her inspection. And then she obeyed
aviation
"red" general m-r arrived At the end of the day, when building in the parking lot, the commander said that tomorrow the beginning of the final and everyone to arrive at the building in everyday form. The command of the regiment basically knew about the problem with the lieutenants, but the commander was either on vacation or forgot. The lieutenants tried to hint about the problem with the form, but heard something about lumines ...
On the way to the hotel, the lieutenants had a plan to take a tunic from tankers with similar sizes, and use breeches from the field uniform. Remembering the epaulettes, we stopped at a military office and bought. While the process of exchanging tunic jackets for alcohol was going on, night fell. In a quick rebuff and sewing shoulder straps, the guys suddenly found that the buttonholes are black and with
tanks
and there's nowhere to take the blue ones. But since the alcohol sharply raised IQ, they decided to screw the birds onto the black buttonholes, and they will not be noticed in the middle of the system.
In the morning, the guys got dressed and could even make fun of themselves - we are now some kind of night aviation. Building, ballet and the team "To the inspection survey." Both lieutenants are in the same rank, side by side, and they are approached by a "red" general, a "red" major with papers and our regiment. The general, unfortunately, was not color blind and immediately found a discrepancy in form. Turning to the lieutenants, he asked sternly, "What is this?" And suddenly one of the lieutenants replies: "The crew of a night bomber." At the regiment, the facial muscles began to form a smile, but the general turned and looked at him questioningly. The commander sharply reduced his facial muscles, and he was only able to moo something. Klikuha stuck to the guys, until they transferred to another garrison, their name was "Night Bomber"!