State Admission Commission composed of Caspian officers flotilla completed state tests of the Project 11770 "Serna" fast landing boat at a shipyard in Nizhny Novgorod.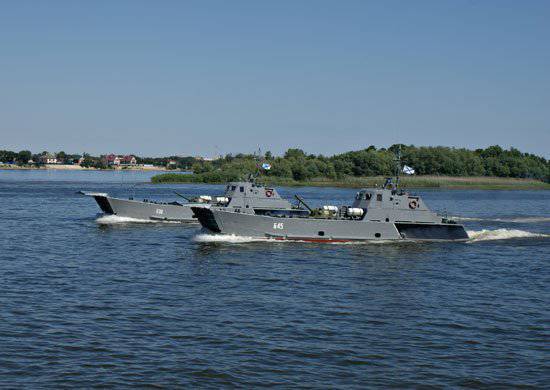 Experts of the commission checked the speed of the boat when performing various maneuvers at maximum speeds - more than 30 units (about 60 km / h), indicators of all ship systems and devices when performing combat exercises. The readiness of the boat for receiving and unloading the landing force on the unequipped coast, as well as its independent breaking off, was checked.
Currently, the boat is preparing to cross the inland waterways to the Caspian Sea, its arrival in the Caspian Flotilla is planned by the end of this summer.
For reference.
The landing boat of the Serna 11770 Ave. is intended for transporting and disembarking on the unequipped coast of wheeled and tracked vehicles, personnel with armament with a total weight of up to 45 tons.
The boat is able to reach speeds of up to 30 nodes or more (about 60 km / h), depending on the workload.
The movement of the landing craft is based on the principle of an air cavern - an artificial air gap with excess pressure under its bottom, which isolates most of the hull from contact with water, providing a significant reduction in resistance and an increase in speed to 30 nodes and more, can be independently removed from the bank.
With a full supply of fuel, the boat is able to deliver military personnel, military equipment and materiel to the destination at a distance of 600 miles (about 1200 km).