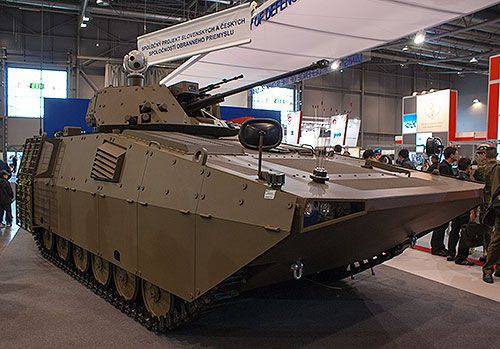 A Slovak infantry fighting vehicle BVP-M2013 SKCZ was presented at the IDET-2 exhibition in the Czech city of Brno, according to altair.com. Great interest in the car expressed Czech armed forces.
The machine is based on the BVP-2 (manufactured under license in Czechoslovakia BMP-2, it is also possible to upgrade the base BMP-1). The body underwent a complete rework: the roof of the car was raised to 270 mm, the bottom became double (the space between the two sheets was filled with foam). Also updated machine control.
The internal layout is made similar to Western military vehicles. The front seat is the driver, followed by the commander and gunner. Fuel tanks and batteries are installed in higher fencing niches. Six infantrymen are located face to face on the seats attached to the sides of the troop compartment. Additional space is behind the driver, which may be intended, for example, for a platoon commander. However, his place is not equipped with a separate hatch, as it was on the BVP-2.
Armament is represented by a combat module with a remote control TOUR-30, including 30-mm 2-42 cannon and 12,7-mm NSV machine gun. The module is equipped with an independent panoramic sight.
BVP-M2 SKCZ is a joint development of the Slovak VOP Trecin and the Czech Excalibur Army, which are building the body, and the Slovak EVPU responsible for the combat module. The installation of a Polish night instrument for the driver PNK-72 Radomka used on the Rosomaka BTR is not excluded.