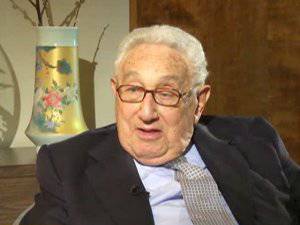 What exactly is behind the already forgotten genre: personal and secret letters to each other presidents of Russia and the United States? This week Putin's response to the message that came from Obama a few weeks ago was delivered to Washington from Moscow. Two words about the circumstances of the place.
Assistants of US presidents for national security could be removed through the windows of the White House only in the past life. In frames taken in 1970's, Henry Kissinger. Today, after September 11, Washington DC Avenue has a completely different security mode. But inside the White House there are always official photographers and cameramen, but there is not a single frame from the meeting of the current Assistant to the President of the United States for National Security, Thomas Donilon and his Russian counterpart Nikolai Patrushev, this week's meeting there. As a result, it is only possible to combine official photos of these officials, whose talks in the Kremlin were visited by Putin, and in the White House - by Obama. For the time being, only this was known, everything is so confidential, or rather, secret. However, such caution is even desirable in the relations of truly nuclear states respecting each other, bearing special responsibility for the fate of the world.
It is extremely important that now we are talking about the whole "package". It is not only missile defense - missile defense. This topic is important, strategic, but, perhaps, rather far from the worries of ordinary citizens every second. Still there is the economy. This Moscow and Washington always lacked; except for Russia's buying up of American securities. That is, paradoxically, there is practically no economic cooperation, but elements of America's dependence on Russia already exist. However, in this case, it is interdependence. But where the United States and the whole world really depend on Russia is Syria, North Korea, Iran, where Russia has indeed restored its influence over these years and occupied new niches.
A sign of this was the pilgrimage of the last days to Putin. Just yesterday, he was visited by the President of Serbia. In short: Croatia, Bulgaria, Albania are members of NATO, in Serbia the base of the Russian Emergencies Ministry. Croatia, Bulgaria, Slovenia are EU members, but Russia's friendship with Serbia is also sealed with serious loans.
From the same series, the bust of Hugo Chávez from Vladimir Putin to the new president of Venezuela, Nicolas Maduro, is also a personal message that accompanied the new oil contracts in the once, of course, pro-American Caracas. If you think about it, then there is a similar system of checks and balances on Syria. Prior to that, Putin was visited by Israeli Prime Minister Netanyahu, United Nations Secretary-General Ban Ki-moon and head of the British Cabinet David Cameron who took up the study of the Russian language. The British Prime Minister from Putin went to Obama, and then called up again with Putin, because without Russia on the Syrian "track" it clearly does not work. And Cameron seems to be reviving an old and good tradition that once served the good work of both London and the whole world, according to which Britain was a springboard to accelerate Russian-American dialogue.
There is nothing easier than to prove that Russia and America will never converge. If we take the events of 1823 of the year, then for some reason the Monroe Doctrine adopted in the United States for some reason is customary to say that its slogan "America for America" ​​was put forward in opposition to Anglo-French revanchism. In fact, both the United States and the British had already successfully squeezed the USA and Canada into the Caribbean, and if you read the materials of the hearings at the congress of those times, it is clear that the main obstacle was then President Monroe and his Secretary of State Adams began to see Russia: at that moment interests clashed with alaska.
The more valuable is the experience of Russian-American not only rivalry, but also mutual understanding, and even cooperation. And in this sense, the heritage of Henry Kissinger is especially interesting. During the Second World War, he was a soldier, took part in a meeting of Soviet and American troops on the Elbe, and after the war he was Assistant to the President of the United States for National Security and then Secretary of State under Presidents Nixon and Ford.
On Monday, May 27, Henry Kissinger turns 90 years old. Of course, these days the most famous joke about him will sound again and again: A journalist asks: "Dr. Kissinger, but what is the" shuttle diplomacy "you have invented?
- Oh, it's very simple. Do you want to marry Rockefeller's daughter to a simple guy from a Siberian village? "
- But this is impossible!
- Nothing like this. Look: I am going to a Siberian village, I find a simple guy there and I ask: "Do you want to marry an American?" He told me: "Why? We have good girls here too." I told him: "Well, and if this is the daughter of the millionaire Rockefeller?" He: "Ah, well, then another thing." Then I go to a Swiss bank and say there: "Do you want a simple Siberian guy to become your president?". They say: "No way!". Then I ask: "And if this will be Rockefeller's son-in-law?" They: "Well, it changes things!". To the next one I go to Rockefeller and offer him to the son-in-law of a Siberian peasant. He to me: "Yes, never in my life!". I told him: "And if he is the president of a Swiss bank?". Then Rockefeller calls to his daughter. "Suzy, Mr. Kissinger found you a beautiful fiancé — president of a Swiss bank." To which Susie says: "Fi, what a bore!". And I told her: "And if this is a hefty Siberian man ?!" Well, then she says to me: "Oh, it changes things!".
We met with Dr. Henry Kissinger, Nobel Peace Prize laureate, 56-m US Secretary of State, at his office in New York.
- Tell me, is it interesting to approach the 90 anniversary?
- This is definitely a unique experience. I have never looked so far. Not that I thought I would die earlier, but 90 years in the concept of "old age" on invested.
- In Russia, elderly people often say that in the past the water was wet and the grass was greener. You can say that it is happy today, or before life was more interesting?
- I was lucky, I lived an interesting and rather rich life, since 60-s engaged in international affairs. Was the grass greener at the time? It was a completely different world. Then there was no Internet and computers, and communication took place slowly, more precisely - more measured, there was time to weigh everything. Both periods were very interesting, I would not choose between them.
But in the era of digital editing, the "analog" Kissinger feels great. For example, he acted in commercials, and was also the hero of the popular cartoon "The Simpsons Family". Depicted almighty Secretary of State and in the guise of Superman. What does he do in this way - both from a positive and from a negative point of view - both of his compatriots and negotiating partners? Recently Kissinger came to Russia as a co-chairman of the Russian-American group of "elders". We will ask about it from the Russian co-chairman of the group, Yevgeny Primakov.
- Yevgeny Maksimovich, Henry Kissinger is "neither a friend, nor an enemy." But as?
- I consider him an outstanding politician. Maybe there were only a few of them, especially in the 20th century. First of all, it seems to me that he always comes from the real situation. At the same time, he is looking for ways out of critical situations without violating the interests, of course, of the United States, which he represents.
But Kissinger was born in Germany. A young German Jew, Heinz Alfred Kissinger, lost relatives in the 13 concentration camps, but he himself managed to escape to America. For the first time, he returned to Europe as part of the US 84 Infantry Division. As Kissinger himself recalls, in Torgau - on the Elbe - a Soviet cavalry officer offered him an exchange: his Cossack spurs for a full American military uniform. "That's when I first thought:" How difficult it is to conduct negotiations with the Russians, "the politician admits.
A Republican and champion of "real politics", a scholar and confidant of Nelson Rockefeller, he became national security adviser under President Nixon at the height of the confrontation between the two systems, during the Vietnam War, under Nixon and Kissinger even more expanded when the Americans extended strategic bombing to Cambodia and Laos, as well as under conditions when socialists and communists came to power in Chile; and this is in the backyard of America. In 1971, Allende was overthrown by Pinochet, who, in the name of the suppression of communism, went on to comparable human rights violations even with Stalin's.
Henry Kissinger recalls: "There are people who consider it necessary to attribute moral sins to us. Without any doubt, we were not interested in the emergence of another communist state in Latin America, but that the US government is responsible for the regime change in this country "fundamentally wrong. All the archives and records of those years confirm my words."
In fact, after the memorable arrest of Pinochet in London, the Clinton administration declassified some of the documents of that era. In an American way, the liberal interpretation of these documents suggests that the Americans were aware of the impending coup. Subsequent meetings with Pinochet just Henry Kissinger - the best illustration of the very "real politics". From the same series - it was precisely Kissinger who organized the rapprochement of the United States with the People's Republic of China in defiance of the Soviet Union. In 1971-1972, it was a chain of sensations.
- In fact, this process began when the Soviet leadership deployed an impressive contingent of troops on the Chinese border. Then the impression was created that Russia could attack this country. Prior to this, the United States was not able to establish any diplomatic relations with the People's Republic.
- And now, trying to surround the PRC with its military bases, the US does not repeat the mistake of the USSR?
- I am deeply convinced that there is no coercive solution of the issue, which some people call the "Chinese challenge", therefore I have always supported attempts to establish the maximum level of cooperation with the government in Beijing.
"So the answer is interdependence?"
- I think that today is one of the ways to understand the key points that require a global solution. In this connection, relations between the USA, China and, to a certain extent, Russia are central.
"There is no Russophobia in it absolutely, not present. But he, of course, can be our opponent, if it is profitable, not even profitable, but necessary for the US. Because if it is profitable, he can still think. But if it's with his point of view is necessary, then he can be our adversary, "Yevgeny Primakov is sure.
The meeting of Brezhnev and Nixon in Moscow, which took place soon in 1972, was marked by the conclusion of such agreements as missile defense and SALT. This provided a very short but respite in the arms race. But all this, of course, did not mean that people like Kissinger were ready to give in to the Soviet Union, especially in the third world and, especially, in the Middle East. "And then Sadat, in general, became an obedient tool in his hands," Yevgeny Primakov recalled.
Today, Kissinger says that, despite what is happening on the surface, the United States and Russia are obliged to cooperate on global issues. Of course, it is a pity that so many American politicians are beginning to talk more and more when they retire. But he really has someone to listen to.
- Allow me to ask you a difficult question about the very surface, because of which everything is periodically very complicated. Not so long ago, you spoke positively about the President's signing of the Helsinki Act, because, despite all the criticism of the agreement on post-war borders in Europe and the USSR, the Act introduced human rights on the agenda, and this led to the erosion of the communist system. I don't think I said something wrong. Now an extremely strange situation has developed in the States: most politicians positively assess the role of the Magnitsky Act, which, in actual fact, produced the opposite effect and, of course, adversely affected relations between our countries. Do you think this is a wise decision: to pass a law on what could theoretically happen in another country and, thus, to punish people either involved or not involved?
- I was against the adoption of the Magnitsky Act. I was against the Jackson-Vanik amendment, now I am against the Magnitsky Act. The law is definitely not conducive to the development of our bilateral relations, and I believe that this way it is impossible to approach the solution of the problem. We have our own views on human rights, but I have never agreed with the policy of punishment.
Kissinger urges not to exaggerate his influence on US power, but we will not underestimate it. After the interview, he went to instruct his secretary: we met at the office of his highly influential consulting company Kissinger Associates: decorated with pictures of presidents' autographs and located not only in New York, but on prestigious Park Avenue. In other words, Kissinger is not always listened to, but they surely do. Although sometimes he takes a pause.
- And the last. I have had to interview a person of your generation, but with diametrically opposed political views - Mr. Louis Corvalan, the general secretary of the Communist Party of Chile. For many years he lived in exile in Russia and loved our country very much. But I asked him: "Senor Corvalan, but why, despite all your affection for Russia, do you not understand Russians?" He replied that we appear to be the only nation on the planet that is able to drink meat with white wine and fish with red wine. What have you been unable to understand in Russian during your long service?
- In my opinion, there were no such things. In my understanding of Russia, I could have been mistaken somewhere, but I always at least tried to understand. A combination of red wine with fish for me is not an indicator. And not only because I myself drink very little, I can say, I don't drink at all. If you try to summarize, in my understanding, Russia is a very many-sided and very different country, periodically capable of sudden outbursts of cruelty. So she controls herself. These inconsistencies often frighten Americans. But at least Russia will definitely not leave you indifferent.