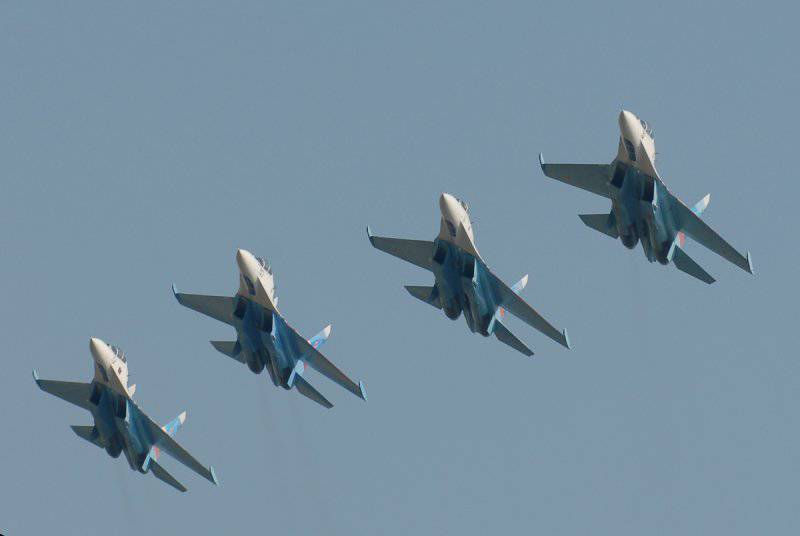 The Order of Lenin of the Red Banner Aviation Personnel Training and Military Test Center of the Russian Federation Ministry of Defense named after V.P. Chkalov marks the 60 anniversary of its foundation.
According to the Office of the Press Service and Information of the Ministry of Defense of the Russian Federation, as part of the celebrations, the leadership of the air center organized a ground and air show
aviation
technology for everyone. On the ground were presented combat aircraft of front-line aviation Su-27, Su-24, Su-25, MiG-29, MiG-31 and stands outlining their combat characteristics. The flights were attended by Su-27, Su-34, Su-24, Su-25, MiG-29 aircraft.
The flight group of the Falcons of Russia Lipetsk aviation center under the leadership of Major-General Alexander Kharchevsky demonstrated a single, group aerobatics and maneuverable air combat in Su-27 fighters. During the flights, aerobatics were demonstrated at the maximum modes of a pair of MiG-29 planes, an imitation of ground attack attacks, and Su-25 attack aircraft anti-missile maneuvers.
Such aerobatics as the "bell", "Nesterov's loop", "horizontal barrel", "knife", "slanting loop from takeoff at the boost", were demonstrated by a pair of MiG-29, "mirror", "inverted flight" "dissolution", as well as various tactical techniques of air combat.
According to the head of the Center, Major-General Alexander Kharchevsky, "the air show and preparation for it is not only a demonstration of the capabilities of the aviation technology and skills of the flight personnel of the Center, but also the improvement of this skill, the acquisition of experience and skills, both in single and in group piloting, the ability to prepare young flight crew to perform more complex tasks. "
During the existence of the Lipetsk aviation center, its pilots mastered over 40 types of manned and unmanned aerial vehicles, conducted more than 50 research exercises and performed over 2 thousands of research projects. The 32 Hero of the Soviet Union and the Russian Federation served here.
Today, the Center is the main base for studying the combat capabilities of the MiG-29, MiG-31, Su-24, Su-25, Su-27, Su-30, Su-34, Tu-22, Tu-95 and their modifications, as well as Mi-24, Mi-28МН, Ka-50 and Ka-52 helicopters with subsequent introduction into the practice of the Air Force developments obtained during the flight experiments.