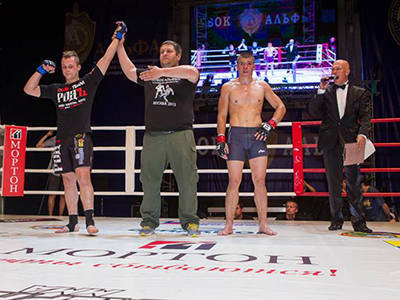 18 May 2013 at the Universal Sports and Entertainment Complex of the Russian State University of Physical Culture, Sports, Youth and Tourism hosted the international tournament "CUP of ALPHA". This tournament is dedicated to the memory of employees of the special division of the anti-terror "ALPHA" of the "A" department of the Special Purpose Center of the Federal Security Service of Russia, who died in the line of duty, and is dedicated to the Victory Day of the Soviet people in the Great Patriotic War.
Leading sportsmen from Kazakhstan, Belarus and Russia took part in the tournament on the Alpha Cup in the official single combat. The first Russian Bellator champion in the heavy weight category Alexander Volkov, as well as the world champion in combat sambo and jujitsu, the rising star of MMA Alexey Ivanov took part in the Alfa MMA team (Russia).
As part of the tournament, there were also fights according to the rules of MMA, K-1 and Thai boxing with the participation of professional athletes.
According to the results of the performances the first place in the team event was taken by the sports club "Alpha MMA".