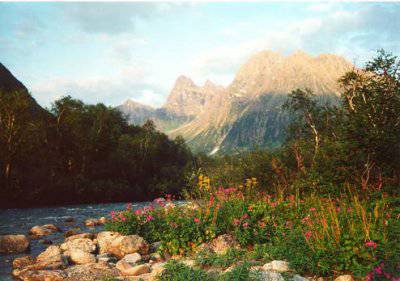 As I wrote in the previous article, hunters are peculiar people. Yes, and the hunt itself has become an obsession. Proximity to nature, common interests, freedom from office, rank, merit, give rise to very special relations. And the evening gatherings around the fire, after a few hours in the reeds or a dozen kilometers on the plains, set up a benign, philosophical mood.
So. Evening. Crackle logs on fire bonfire. The soup gurgles in a pot. In the circle is another portion of "glasses of tea." And a few completely different, both in age and in the position of people, united for a short three days of hunting.
I did not write down who said what. It was important for me to learn the general opinion on some issues. Therefore, the hero will not. Will the Hunter ...
About Siberia
And what about Siberia? - The richest country. Earth - heaps! And you dig the ground - in general, all heaps. Only now not everyone is given. Midge, swamps, frost. Each creature has a pair. A lot of people came here in Soviet times. And remained units. Siberia accepts only real people. Without a wormhole. How to build a railway with the king, and we live, for the most part, on this road. And about the birds, fish and animals, and I will not speak. I saw it myself. And if you turn your head, then you will see - the owl flies.
Previously, the state needed to develop these lands. Not only oil was pumped, but bread was also raised, cattle were raised. Our area ten neighboring fed. But then. Everything stopped. Farmers are trying to do something, just confused - a little.
Yes ... distance from us. Two airports were before. One front, for airplanes from other cities and regions. And the second is local. Corncroppers, helicopters, and all sorts of AN-24 and YAK-40 flew to regional centers, like buses. People from the most distant, bearish corners flew into the city to shop, just to rest. Now there is no local airport. In areas even strip dismantled. Only out in the next district center remained. And that is simply because he redeemed and uses his aged Moscow showman - a pilot with good pressure.
About the city
Our city is beautiful. Soon we will celebrate three hundred years. Yes, and a millionaire. When there was not yet this rampant democracy, we lived in a garden city. So everywhere they wrote - "Garden City". We lived well, did not want to leave. We looked at cities in other places and saw that we live no worse. And then came the restructuring. Easy money came from the western regions, oil companies came and that's it. The city is dead. Huge factories began to work with us, and the money went to other places.
The governor began to invest in the village. And now, you see, the village is half-dead and the city is the same. But probably the worst thing that happened is hopelessness. People live, instead of living. Old people after 40-45 years of work simply do not. No. And the one that will be taken will cost a maximum of 10-12 thousand.
Small and medium businesses were squeezed so that in the first quarter of this year alone, more than four thousand entrepreneurs revoked their licenses.
So, those who are willing and able to work are fleeing the region. Run to Russia, to Moscow, Peter. Recently, the son of a friend in Peter left. Toyota assemble at the factory. The work is hard, the apartment is rented with friends, but they are not going to return.
There used to be a garden city, but now it has become a city - a garbage dump. In the literal sense of the word. In any yard deposits of garbage. Not to mention the paint. Probably to us it is delivered only for private traders. You will not see a border painted, a fence. And we have patching roads. The climate itself, as you can see, is cold in winter and snow, and in summer it is hot, in spring and in autumn it is slush. Here our asphalt roads together with snow and washes away. And in chunks, or rather pits. And repair these pits all summer. Annually. And in September, another layout will draw. So that all people had. And there is winter, everything is under the snow and in the spring everything is new.
About utilities
Well, it's like everywhere, I guess. It seems that something is being done, but for some reason on a global scale. About the repair of houses, people no longer remember. They are shabby from the Soviet times, well, let them stand. But if the wall falls outside or there the plates by centimeters 20-30 diverge - then yes! Will repair and oboshyut, so it was not visible. In short, I don't want to talk about it.
About youth
Our youth is normal. No worse than other places. They study, work, serve in the army. There are, of course, problems. How without them? Drug that's divorced. Like and catch, but to sense?
Ours are stubborn. If they decide - they will. Therefore, there are many universities in the city, academies. I would even say that we have a student city. Was and is. And good specialists come out. Only use them nowhere. Leave.
About Siberians
What to talk about us? Here we are. We can work and relax. And we can drink and eat. And when it is necessary - and tighten the belts. We can not climb out of the beams for months (residential cabins on wheels), we can build a house and get food.
Roots from where? Yes, someone like. Most are Siberians from war or post-war years. You see the lights in the distance - the German village. Probably a third of the area Germans, once evicted by Stalin, occupy. Just what are the Germans now? Ours are Siberians.
When Gorbachev left a lot in Germany. But the majority remained - Motherland. The only difference - the monuments in the cemeteries on the contrary put. Yes, a little more order. And so, Siberians, the roots are purely Soviet. You understand about the German villages, but there are also Kazakh, Tatar, Chuvash villages. Yes, what we do not have?
About religion
Yes, we are Orthodox. True, not particularly pious, but sometimes we go to church. There more old women live. But, you know, people are different. So faith is different. And we have a mosque. And the church. There are some prayer houses. What about us? Well, people pray to their God. They are in their own way, we are in their own way, so what? Nobody teaches anyone: how to live, whose God is better. Over in the North, the Old Believers live on their own. Live well. No one thinks they are better or worse. As they say now, in this issue we have tolerance.
About patriotism
Well, brother, you love high words! You know, every kid with our mother's milk absorbs us - there is a house, a village, a city, a country. And you, as a man, are obliged to convey this to your son, daughter. Obligated to protect girls and women from the fierce beast, whatever his guise would come. Probably you know the Siberian divisions were killed near Moscow? Even the famous Panfilovs were leaving our station. It's not me that the fighters are better or more mastered than ours. Simply, probably, we are more solid, stockier, or what? Patriotism begins, you know, with what? In wartime childhood playing? So it begins with the fact that the snotty boys want to be for ours.
About weapons
Are you allowed to carry guns? Pampering all this and will not lead to anything good. There, in the corner of the borrowing, you see - a hole? Random shot. An experienced hunter and voila! And the old woman is prorukha.
Well, tell me, what will give you a gun? Confidence? Protection? An opportunity to help someone in trouble? Nonsense it all. If you go with a gun - you do not even have time to get it. And if with a knife - you will sit down for a long time for excess of self-defense measures. According to current laws, you can't even shoot from your tulku to a criminal. She must lie in the iron box. Already better in the old way - with a knife or an ax.
About power
What is pop, so is the parish. No, and we will not have power. No, there will be more and more officials every year. Deputies of different. But there will be no power. Look, a man has become a deputy or mayor there. Power sea, and I want more and money. And begin to seize. Because temporary workers. Because it's not the city or country that cares for them, but their own purse.
Here in the era of stagnation and decomposition of the rules by the region of our first secretary of the CPSU regional committee Manyakin. I was still a kid then. So the democracy came, the communists began to blame, and the name of this Manyakin street was called, and recently the ship. It is in our time! Can you imagine the street of any of the modern rulers? That's the same!
About migrants
Migrants come to us. Not so, of course, as in Moscow. But go. Already Chinese villages have appeared. True, citizenship is not taken, but as bugs. One wound up, wait a couple of months a hundred. Kazakhs in general - local. The south of the region is almost completely Kazakh. And the city is half.
Once on the coat of arms of the city depicted the fortress wall. Protection from Kyrgyz. Now, that's only from the Kyrgyz and protects. But all sorts of Uzbeks, Tajiks almost do not go. Draw in summer and freeze in winter.
Of course, I would like Siberia to remain Russian after all. Just does not work. Children leave, old people die out. You drove here, saw how many abandoned houses and entire villages? Since Gorbachev's times is. So we will soon return the property to the owners of this region before Yermak.
... These are the notes I brought in a notebook from the hunt. With something from the stated I agree completely, something causes a protest. But I did not edit the thoughts and words of others. It seemed to me that against the background of the victorious reports of the leadership of the region (such as the average salary in 22 thousands of rubles), it would be appropriate to give the floor to the simple Siberians. People who live here, who survive here.