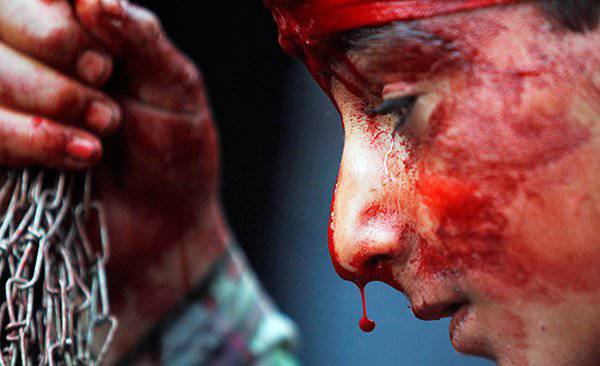 1
French writer Dominique Venner committed suicide at the altar of the Cathedral of Notre Dame.
At first it was said that it was his protest against the French law on gay marriage. But left by Venner (by the way, a specialist in Russia and
stories
of our Civil War), the note places his action in a wider context: it was a protest not so much against a specific law, as against the cultural, civilizational, religious, moral self-destruction of Europe. I allow myself to take the reader's attention and bring this text in full.
"My body and mind are in perfect health; I am full of love for my wife and children. I love life and tea just to save my race and my spirit. And yet, at the end of my days, at the sight of the great danger threatening my homeland, France, and all of Europe, I am obliged to act while there are still forces. I believe that I must sacrifice my own life in order to awaken compatriots from lethargic sleep. I sacrifice what remains of my life in protest. I choose a deeply symbolic place - the dearly dear to my heart Notre Dame Cathedral, erected by the genius of my ancestors on the site of an even more ancient cult, in memory of our great origin.

While people chain themselves with the chains of their own bodily existence, my gesture is an act of will. I accept death in order to awaken numb consciousness. I rebel against fate of fate. I rebel against poisonous souls, against individualistic desires that break our connection with the roots and traditional forms of being, in particular with the family - the foundation of our many thousands of years of civilization. Speaking in defense of the identity of each of the peoples at home, I rebel against the criminal substitution of our people by others.

The prevailing discourse at the moment is steeped in double standards, and Europeans will sooner or later have to cope with the consequences of this ambiguity. Having no tribal religious system, which is a reliable anchor in the abyss of impermanence, since the times of Homer we are still united by a common patrimonial memory, a storehouse of eternal values, which will serve as the basis for our future revival in a metaphysical separation from the realm of quantity - the causes of all the evils of the modern world.

I apologize in advance to all those whom my death will make suffer; first of all, my wife, children and grandchildren, as well as friends and colleagues loyal to me. But I have no doubt that, as soon as the pain of loss subsides, the true meaning of my actions will open up to them and they will proudly reject sadness. I would like these people to unite forever. In my recent works, they will find information that anticipates and explains my actions. "
Despite such a blasphemous thing as suicide, Venner did, in fact, as a man of Christian culture. In this sense, his act is contrary to the act of another "hero" of modern European resistance - Anders Breivik. Breivik staged a massacre in protest, destroying people, mostly personally innocent of Norway's migration policy.
He acted as a descendant of the Vikings, who, according to the sagas, called "children lovers" not at all those whom you thought of, but rare warriors who refused to impose small children on spears. Breivik, however, behaved quite decently in court, was ready to accept the death penalty if he were sentenced to it, and morally won his process, which is absolutely amazing with the enormity of his crime.
Wenner went a completely different way.
Under the formal rhetoric of a pagan sacrifice worthy of Roman prowess, he showed the Christian soul. To dispose of not other people's lives, but one's own - in order to awaken the human spirit. The fact that this amazing act caused a hysterics of traveling striptease from "Femen", who did not hesitate to arrange another "action" right on the spot of Wenner's death, speaks of the impotent rage of all the demons of both worlds.
In general, an amazing thing, with impunity in Russia and Ukraine, "Femen" suffered a crushing moral defeat in Europe in less than a year. At first, the Brussels-based Archbishop Andre Leonard opposed to their frenzy Christian patience and humility. Now they covered themselves with eternal contempt with dances at the place of death of a person.
Only one question remains: why these ladies are so freely violate the rules of public order seems to be in a very legal states? Why do they manage to have the second time in six months to break into Notre Dame and nasvinyachit? It seems that the French Ministry of the Interior does not have the answer.
Anyway, Venner made his act is not so much in order to have banned homosexuals to adopt children (this is only one of the private aspects of the self-destruction of Europe), but for the sake of an end, finally, the era when European army soldier in his own country, his own city can chop off his head.
2
The British authorities, after two Muslim fanatics in London cut off the head of Her Majesty's soldier, recommended the servicemen not to walk in uniform, not to appear in crowded places and not to lean out of the barracks at all.
Actually, enemy troops in the occupied territory behave this way: "Ahtung! Partizanen! "London last experienced an occupation almost a thousand years ago, and the British must have this feeling again, especially since they are not occupying, but they were occupied with the full consent and full connivance of Her Majesty's Government and the current parliament more pressing problems - it legalizes homosexual marriages.
Actually, after this episode, the British leaders were quick to declare that "Islam does not bear any responsibility for everything that happened, Muslims made a great contribution to British society," etc. That is, they tried to do everything in order not to offend Muslims, and this was clearly on the list of priorities higher than expressing sympathy for the relatives of the deceased or reassuring British society.
Does Islam as a religion really have nothing to do with the terrorist actions of the so-called? "Islamic fanatics"?
Was it really for the bastards who cut off the soldier's head, another bastard, a Syrian rebel who ate a light soldier of Assad's soldier with a cry of "Allah Akbar!", The kids are beginning bastards who, with the same cry, smoked all the remaining Carlsons from the lofts of Stockholm and then spread the video fireworks on "YouTube", - all these soldiers of the war of civilizations and races that were raging across Europe from the Atlantic to the Urals (enjoy as long as this word is not banned, as the French parliament did) y "?
In my opinion, so it is impossible to say for several reasons.
3
Firstly, there are many murderers and arsonists "in the name of Allah" all over the world, they have been operating for more than a decade. If you count the "over the heads" of the murderers who destroyed unarmed people, while calling on the name of the god Muhammad, then the bill has long gone by thousands. Secondly, the murderers themselves are piously convinced that they are good Muslims, they fulfill the commandments of the prophet, their atrocities are jihad and they themselves deserve the glory of shahids and heavenly existence.
No doubt, there are many people in the world who consider themselves to be Napoleons, messengers of space, and guides of the alien mind. But the majority of these people are sitting in a mental hospital after the first "manifesto", they do not negotiate with them as politicians or as a social force, they are not searched for and do not use special services, dissertations on their local nonsense are not protected by anything except psychiatry .
If one day, not only one patient imagines himself Napoleon, but a thousand patients imagine one Napoleon, another by Murat, the third by Davout, pay off the old and young guards and, having armed themselves with modern grenade launchers and armored cars instead of old guns, go to conquer Egypt, it will be difficult to talk about banal madness.
It will be completely obvious that the "napoleonism" of these people turned into a large-scale social cult. Crazy alone. Mass coordinated madness is a little different. And the fact remains that those who cut the heads of the soldiers, gnaw out their lungs or simply set fire to the foundations of Swedish socialism, call their collective insanity, called "Islam."
You can, of course, pretend that this self-certification is an imposture, that these villains are simply trying to claim the name of real Islam without having anything to do with it. This is unlikely, but theoretically possible.
But imagine a fantastic plot: a person appeared who calls himself by your name, assimilated your appearance and manners, memorized your manner of speaking and your ideas and commits all the terrible crimes mentioned by me and not mentioned by me. What will you do? Most likely, you will spend all the time, strength, nerves, health to expose, stop, and maybe destroy the impostor.
It would be logical to expect such actions on the part of representatives of official Islam against tens of thousands of "individual maniacs and crazy who disgrace the honest name of Islam." But we do not observe these logical actions. In response to crimes in the name of Allah, there are sluggish official statements with expressions of condolences, supported by a little less official in the spirit of "youth got excited - it happens".
From murder to murder and from statements to statements by the majority of Islamic leaders around the world, there is no real fight against the supposed "dark double" of Islam. And a natural question arises: maybe this is not a double?
The reaction issued by Islamic leaders in response to this question only reinforces fears. They, as a rule, begin to insult the questioners, accuse them of Islamophobia, and threaten with violence. If we are talking about the "impostor Islam", the most terrible enemy of Islam, then it would seem that Muslim leaders should see allies in those who are fighting this enemy. But nothing like that.
Religious scholar Roman Silantyev and Protodeacon Andrei Kuraev can tell about the reaction to the underlined rejection of aggressive Islamism. Can't already tell about. Daniel Sysoev - 20 November 2009, one of the killers in the name of Allah, shot him in the head.
Not so long ago, on April 27, in our with A.A. Wasserman program "Wasserman Reaction" broke out
remarkable correspondence controversy
between o. Andrei Kuraev and the famous mufti Nafigulla Ashirov. And there in response to theses on. Andrei, exactly the same as I have in the text above, the mufti began to openly threaten the Protodeacon, stating that "I would not like hot youth to be offended by him and something happened to him."
So, the official position of Islamists ultimately boils down to the fact that "the murderers have nothing to do with Islam," but to the fact that they are "hot young people who understood everything too literally." In fact, this has to be understood in the following way. There is no pure and peace-loving Islam, which is opposed to the cruel and barbaric false islam fanatics. And there is "Islam of youth", which is not afraid of either killing or dying and is ready in the name of God for any cruelty. And there is the "old Islam", which consists in the understanding that if you run up a long time, you can even kill, but you still want to live.
4
I think that such recognition has its value, at least in the formation of migration policy. We should not let those who come from Muslim countries into the European Christian country whose crimes can be interpreted as "youthful pranks".
And since usually the rationale for migration from these countries to Europe is Europe's imaginary need for labor (in fact, there is no such need - we have a typical case of "labor spam", which I've recently
had to write
), the disabled representatives of the "old Islam" should not be allowed in either.
Possible to formulate another principle, which categorically ignored politically correct politicians in Europe and those in Russia who is following in their footsteps (although Russia has resisted racial and religious political correctness is so powerful that we sometimes even officials sometimes naively able to blurt out what most people think).
If arriving and settling large groups of Muslims require taking into account and recognizing their rights - to wear the hijab, to "non-incitement of religious feelings," which usually leads to the prohibition of crosses, Christmas trees, etc., people who are not from their environment should not commit religiously motivated crimes. .
If such crimes are committed, then the entire religious community should be held accountable for their consequences. You cannot act as a collective community, demanding privileges and concessions for yourself, and immediately turn into a community of unresponsible individuals, it hardly smelt fried. Or before the European nations, the collective communities of Muslims — and then the collective can speak of their rights only if they are responsible for the actions of their members, or before us individuals, and then the words "Muslims of Britain, Belgium, Moscow Region require" do not mean anything.
In the meantime, the actions of official Islam in conjunction with terrorism more closely resemble the well-known parable of the liberals and terrorists while hunting for the People Alexander II.
Paraphrasing this parable, we can say that today the difference between "terrorist" and "official" Islam is that the terrorist says: "Surrender, otherwise I will cut off someone's head" - and another official mufti resonates: "Our youth hot, touchy. Give up, otherwise she will cut off someone's head. "