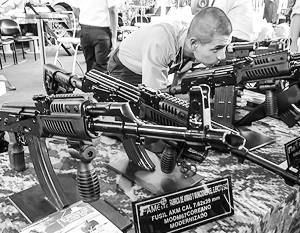 "Why is it impossible to name specific firms involved in counterfeit production of a Kalashnikov assault rifle from the UN tribunes?" Said Igor Korotchenko, editor-in-chief of the National Defense magazine, member of the presidium of the public council under the chairman of the military-industrial complex Igor Korotchenko, who found out that counterfeit Kalashnikov machines had already started to do and in Latin America.
VIEW: Igor Yuryevich, another country has established the production of the Russian automatic machine, without asking the opinion of the Russian side ...
Igor Korotchenko: The fact that counterfeit production of a Kalashnikov assault rifle is conducted in dozens of countries is not
news
. But it was amazing to discover on
armory
exhibition in Lima, a company from one of the Latin American countries, which exhibited in its product line Kalashnikov assault rifles with the signature that these are modernized models, taking, as I understand it, the Russian and North Korean versions of the assault rifle.
Such actions, when such samples are offered to a potential buyer, bypassing the Russian copyright holder - Izhmash, are surprising.
It is one thing when Rosoboronexport or the Izhmash concern would be concerned with the presentation of upgrades on the foreign market. And here, a private company has exhibited these samples and is ready to enter into relevant contracts with potential buyers. This happens in virtually every exhibition, and Rosoboronexport does not get tired to talk about it.
VIEW: What other types of Russian weapons are popular among counterfeit manufacturers?
IK: Very actively and RPG-7 in various variations, portable anti-aircraft missile systems.
There is another side to the issue: the modernization of Soviet and Russian weapons. Here we must pursue a policy so that the options for upgrades offered by Israel, a number of other countries, are subject to deductions in favor of Russian developers. Modernization, for example, on MiG-21 aircraft, Mi-8 helicopters is illegal without the participation of the Russian side.
There are several ways to resolve the issue. Firstly, monitoring is needed: who produces, which enterprises, where these weapons are delivered to. Second: it is necessary to negotiate with specific enterprises so that they either stop production or agree on the payment of royalties. I think there are many opportunities at the international level to influence the situation.
Where it is impossible to resolve the issue amicably, you need to submit to international arbitration in Stockholm.
VIEW: What are the Russian government leverage on the "pirates" in this area?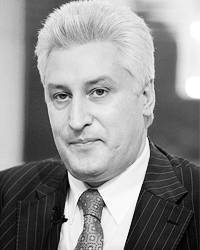 According to Igor Korotchenko, it is necessary to defend the interests of Russian right holders at the international level.
IK: In any case, nobody ignored the role of public opinion. Why is it that from the UN stands not to name specific firms that are engaged in counterfeit production of a Kalashnikov assault rifle? We must clearly say: there are NATO countries - Romania, Bulgaria - that deal with counterfeit. If economic and political damage is inflicted on us, we must name the manufacturer and send official notifications to the governments of other countries: such and such a country, a particular manufacturer in it is engaged in counterfeit production of a Kalashnikov. We recommend not to enter into trade and economic relations with this company, given that it produces counterfeit. If you need to purchase weapons of this class, please: Russia is ready to fulfill these applications.
We must, through our representative in NATO, bring to our Western colleagues that a particular enterprise of a NATO member country is engaged in releasing a counterfeit.
VIEW: And if the governments of some countries continue to openly buy counterfeit weapons?
IK: In any case, it is obvious that it is necessary to instruct the Russian government to work with specific departments on the legal side of the issue: what can we do, how can we influence. So far, this problem has not been transferred to the legal plane, and it is high time to do this.
It is possible to hold an international conference on illicit trafficking in small arms, to raise this topic in international forums. Our leaders meet within the framework of the G8 - there we can raise this problem.
For example, we transferred a number of technologies to the Warsaw Pact countries. Now they are producing the same weapon with minor upgrades, although the licensed production period has expired. Here it is necessary to negotiate that either the license is renewed on the terms of payment of royalties to the Russian right holder, or the production should be terminated. Why don't we do this in partnership with NATO?
VIEW: Is it possible to somehow imagine the scale of the damage?
IK: It is obviously huge, but who will calculate the specific numbers? According to various estimates, the world has produced from 70 to 100 million Kalashnikov assault rifles. If you look at how much was produced in the Soviet Union, in Russia, the extent of the damage becomes clear.
There is financial and reputational damage, and, most importantly, brand damage. Because the Kalashnikov brand is, I think, quite comparable to the value of the Coca-cola brand. Because the word "Kalashnikov" is known to children all over the world without translation. Of course, we need to defend the position that the sale of weapons under this brand is the exclusive right of Russia.