Dear readers! Projects of the frontal "regional separatism", which briskly bred a couple of years ago in different parts of our Motherland, this year hastily rolled up.
Do you remember the identity riot that began around 2010? Cossack separatists appeared who were for the great Cossacks. Pomors-separatists, Kerzhaks and Siberians appeared, who were respectively for Pomorie, Kerzhakiyu and the United States of Siberia.
So. Now with all this it became dull. Perhaps because the frontal projects aimed at a sharp final solution of the Russian question, in general, are now being curtailed. Probably, the repressions worked: after the "fighter for the freedom of the Pomeranian people" from Moscovites, Ivan Moseev reached the court, the initiative to secession from Russia of one or another region "oppressed by Moscow" stopped various kinds of media and NGOs to push forward.
However, this does not mean at all that the authors of the separatist scenarios have left the stage. After the attempts to create mass movements on the basis of naked irritation against Moscow that had recovered, failed, they had a change of tactics. Now we are witnessing a suspicious flourishing of the emphasized respectable "regionalism", whose slogans are revealingly correct, but the main thing is persistently interlaced in them: an artificially created separate, "parallel" identity for the citizens being processed.
Uh um siberian
This is clearly seen in the example of Siberia. This is what Siberian separatists looked like in 2011. Threateningly gloomy black snowflake, according to the author's idea, composed of:
- Catholic cross (straight)
- satanic cross (inverted)
- Andreevsky cross (oblique)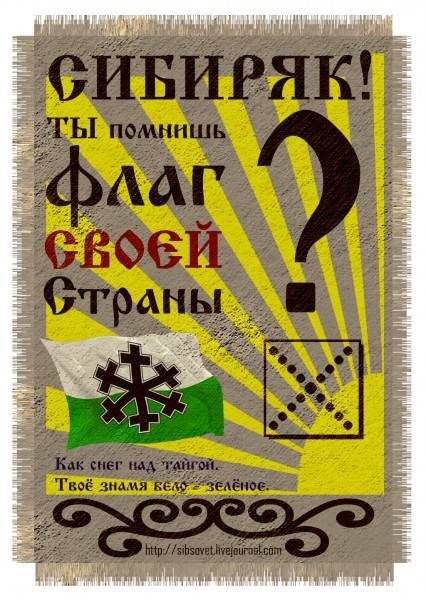 That is, it was the usual movement-freak with menacing symbolism, which could play something only after the success of well-known undertakings in Moscow itself. Frankly promoting the new identity of "Siberian", sometimes even a new language of "Siberian speaking" and hostile to "Moskalik", who are guilty of all troubles. Positive content, except for "down with Moscow", had no.
However, the well-known undertakings in Moscow itself failed, and moreover, a rather severe run-up began against outright extremists.
And frontal projects began to curtail everywhere - from Arkhangelsk to Tatarstan and from Kaliningrad to Siberia.
They began to replace new ones. Much more long-playing.
Here's how the snowflake we knew began to look like in 2013:

There was a magical transformation. For the year (!), The brand I'm * Siberian was developed, aimed at "the universal unification of the information space of Siberia and support of the image of Siberian people, to make Siberia open to the world". For this, for example, the "great Siberian ascent" is organized: the most innocent thing. A banner with a snowflake and photos of sympathetic Siberians was erected on Elbrus. It is easy to see that even state funds and organizations supported the campaign - PeketKavkaz.rf, the administration of Kuzbass and Novokuznetsk, My Planet shopping center, Tomsk branch of the All-Russian State Television and Radio Broadcasting Company and Radio Mayak, TC My City-Kuzbass and the Kuzbass branch of Radio Europe Plus. Not to mention the support of fresh ideas by ordinary Internet users, who took it with a bang. In June of this year, a film will be released about the event, where the word "Siberian" will most likely be pronounced very often and the word "Russia" is hardly as often.
Moreover, a whole souvenir line of "Siberian goods" appeared, starting with tourist stickers on a suitcase. Among them, by chance, there was one with the text "United States of Siberia". You can buy yourself a new passport cover with the same attributes. Opened shops baubles, in which customers are met by the symbol of Siberia - Mimimishka. Well, as with this not to be photographed.
In this case we are not talking about the brand of the region, which would help the real product or service. I'm * Siberian serves exclusively the political purpose of "unification". That is, all these nakleechki, T-shirts and mimimishki, despite all their frivolous-positivist orientation, do an important thing. They distinguish from the people of Russia, from the Russians in general - the phantom construct "Siberians", replacing the real Russian identity with a fictional one.
We must pay tribute to the authors, the project is very professionally done. It is universal, positive, easily distributed, recognizable, on any keyboard there is a symbol for it *. It can be drawn on fences and typed on blogs.
So from hopeless direct imposition of artificial identity, regionalism is moving to a more subtle method. Now it is proposed to replace the feeling of belonging to Russia, not with the ugly black satanic-catholic-Andreev snowflake, but with the modern, fashionable, stylish community of young Siberian people. In fact, at least for anything, as long as the person went.
It is clear that it is difficult to constantly with a millennial force. It is much easier, once having torn off a person from her, to lead him from a snag to a snag. Strictly according to Dmitry Lekukh - for the sake of the ever-changing Western values ​​and the constant need to crush the current Russian statehood. Yes, regionalism is also a Western, European value.
First Person
Or maybe we in vain run into cool guys who do a good job, gather young people and generally volunteer?
Let's listen to Vladimir Cherepanov, the creator of the brand. And we learn not only about snowflakes, but also about shame for Russian citizenship, and even about our ancient Siberian mythology, which must be weaved with modernity for the sake of our homeland Siberia.
So:
"We live here. And the project "I'm siberian", in fact, is not about the branding of the region, which, by and large, should be ordered by the authorities. Our idea has the status of such a social project, a social initiative. We are not going from the top, but from the bottom, this is our private initiative, and we are recruiting supporters to our army who also think. Our goals are very definite: we want Siberia to be more advanced and interesting. If in the USA each region is a peculiar culture, in our country everything is centralized, and I think this is a very big minus. I wish we had our own "west coast" and "hollywood". So that each region has its own powerful enough culture, and not only within the country. Therefore, everything that will descend from above is likely to be rejected, as recent examples of territorial branding have shown, especially in Omsk.
We decided that we would not look for a customer in the administration or somewhere else ... When we go abroad, what to say to a foreigner when asked where are you from? When you say "from Russia", political undertones immediately arise, everyone remembers that Putin did something recently, what other injustice ... Siberia is a mythical topic on 100%. No politics, nothing. This is a huge white spot. (to the question about the possible use of the brand by the state) We, in fact, moved as far as possible from this. The project is called "I'm siberian", we do not have the corporate spelling "Siberia", we do not have the logo of Siberia. We are just promoting the topic of Siberian, and not Siberia itself ".
That is, if we discard ryushechki and snezhinochki, Vladimir associates ashamed to travel abroad with a double-headed eagle on a passport. He exists in a daring young creative environment, where the mere mention of involvement in Russia is an accusation of backwardness and involvement in political repression. Any action of the President of the country becomes an automaton "another injustice ...", and so on. This discourse is already well known to our readers.
And here is even more outspoken from the promoter of harmless snowflakes and mimiches:
"The project I'm Siberian is designed, among other things, to animate the ancient Siberian mythology, to weave it with modernity, to give a new attractive image of our Motherland - Siberia."
This is how it turns out that the homeland is called. So, a nice souvenir, the passport covers of the "United States of Siberia" is not a joke, but a conscious teaching of people to show an asterisk instead of a double-headed eagle at customs.
Given the above, it is not surprising that lawyer Alexei Mitrofanov, who is known by the Kommersant as a new, Siberian Navalny, is among the friends of the new brand. Just in case: the author of the film "Oil for nothing" about "beggarly financing and not receiving a fair share of own revenues", due to which "Siberian cities are in mutual transport inaccessibility". After the film, Mitrofanov organized the national-cultural autonomy Siberian Will. Anyone can enjoy the fruits of his activities in this field in the article entitled "The court recognized the Siberian people as the majority in Siberia". There, the pensioner defender fiercely fights for the recognition of the Siberian ethnic group by the existing national minority.
PS
In the process of preparing the article came
news
that Russian Prime Minister Dmitry Medvedev condemned excessive regional brands.
There are about 4 thousands of people who have been recorded by Siberians during the census. Members of the brand support groups I'm * Siberian on social networks for more than 10 thousands. Not all of them are ready to defend by all means a banner with a snowflake from their own countrymen from beyond the Urals. Almost certainly, most do not even understand what they are positively and politely grouped around. But we can say for sure that the fans of "black snow over the taiga" understood everything correctly.
We understand correctly and we. And, hopefully, the country's leadership too.