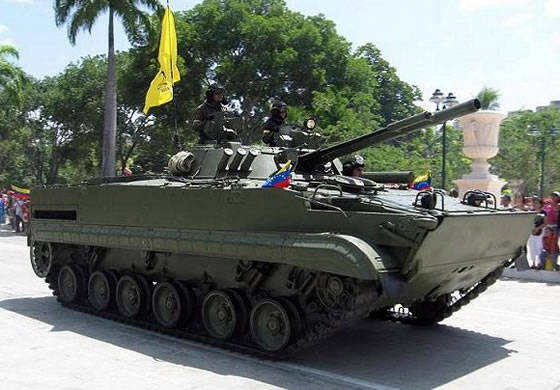 \
311-th mechanized battalion them. Simon Bolivar of the Armed Forces of Venezuela presented adopted BMP-3 and BTR-80 with a wheel formula 8x8, as well as 120-mm portable XMUMNXX2 "Sani" mortars.
Demonstration of technology took place during the celebrations dedicated to the opening of a new base in Fuerte Tiuna (Caracas), informs Infodifensa.
The battalion after the recent staffing of armored vehicles of Russian production was reformed from infantry to mechanized. Structurally, it is part of the 31-th mechanized brigade of the 3-th Infantry Division (Caracas).
In 2009, Russia signed a contract with Venezuela for the supply of 123 infantry combat vehicles BMP-3 versions BMP-3M / BMP-3K and BREM-L "Beglyanka", as well as 114 armored personnel carriers BTR-80 with XNXXXXXXXXXXXXXXXXXXX wheel axle 8 armored personnel carriers with wheel formula XNXXXXxxxxxxxxxxxxxxxxxxxxxxxxxxxxxxxxxx. -8K.
The supply of equipment under this contract began in 2011.
The BMP-3 and the BTR-80 have so far entered service with the 14 mechanized brigade (Barquisimeto, Lara), the 25 mechanized brigade (La Fria, Tachira, 31 th mechanized brigade (Caracas), 41 Armored Brigade (Valencia, Karabobo).