A photo of the first Yak-130 combat trainer manufactured in 2013 for the Russian Air Force at the Irkutsk Aviation Plant, part of Irkut Corporation, appeared on the Russianplanes.net web resource. The aircraft with flight number "46" was shot in mid-May at the Shagol airfield (Chelyabinsk) during the transfer of the first three Yak-130s delivered by the Russian Air Force in 2013 from Irkutsk to the place of permanent basing as a training
aviation
base of the Borisoglebsk Aviation Training Center for training flight personnel of front-line, bomber and attack aviation named after V.P. Chkalov (Voronezh Region). The other two aircraft of this trio, presumably, have tail numbers "47" and "48".
At the beginning of the year as part of the training base of the Borisoglebsky training center, Yak-130 aircraft were fully equipped with one aviation squadron as part of 25 machines (the staff of the training squadron of the center is 21 aircraft). Including from October to December 2012, the Borisoglebsky Training Center received the first 15 Yak-130 aircraft manufactured by the Irkutsk Aviation Plant (side numbers from 31 to 45) built under the contract of Irkutsk Corporation with the Russian Ministry of Defense on 55 supply of this type of machines by the end of 2015 for the amount of about 30 billion rubles, signed by 5 in December 2011 of the year.In addition to the first new Yak-15 produced by Irkut 130, there are also ten 2011 delivered in April-June years myself letov Yak-130 production of JSC "Nizhny Novgorod Aircraft Plant" Sokol "(hull numbers from" 21 "for" 28 ", and" 29 "and" 30 "- former Lipetsk" 90 "and" 91 ").
Thus, the three new Yak-2013 airplanes with onboard numbers from "130" to "46", which were distilled in May 48 to Borisoglebsk, are next (from 16 to 18) machines of the Irkutsk production under the 2011 contract of the year. As the Krasnaya Zvezda newspaper reported earlier, the Boris and Gleb training center should receive 2013 new Irkutsk-made Yak-19 aircraft under this contract in 130 year. This will allow the end of the year to equip these planes with another squadron of the center. It is also reported that 12 on April 2013, a fifth-year cadet of the Borisoglebsk Training Center, sergeant Ilya Adamenko, the first of the cadets of the Russian Air Force, successfully performed an independent flight (without an instructor) on a Yak-130 aircraft.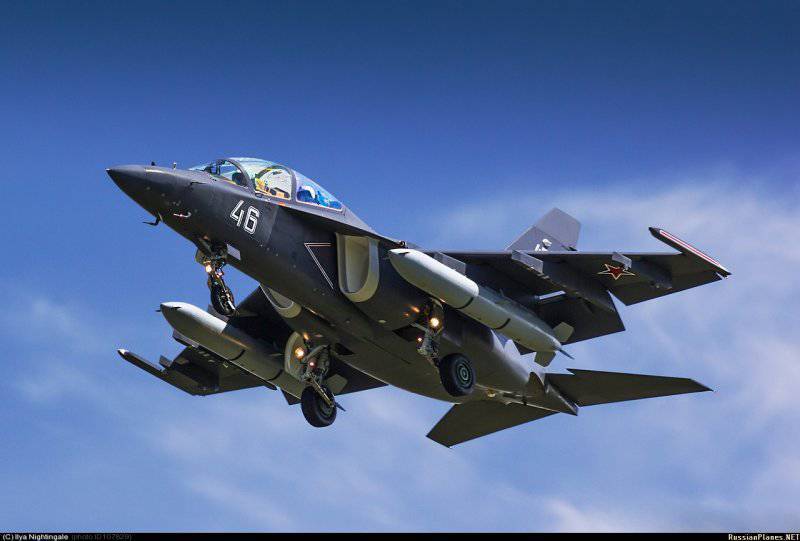 Yak-130 aircraft (tail number "46") produced by the Irkutsk Aviation Plant OJSC "Corporation" Irkut "during the ferry to the Borisoglebsky Aviation Training Center of the Air Force Training named after V.P. Chkalov of the Russian Air Force. Shagol, May 2013 of the Year