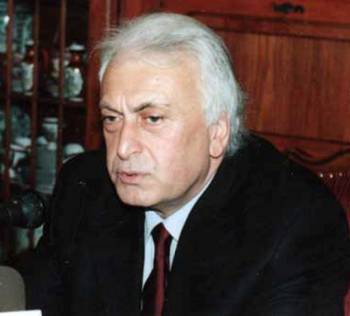 On the possible war in Karabakh and Iran, on the role of Georgia and Russia in it, "Rosbalt" was told by a Georgian diplomat, political scientist and conflict analyst Hamlet Chipashvili.
- Apparently, the situation in the Caucasus region is heating up. Experts predict a new Karabakh war. How real is it in the near future?
- It is far from the Karabakh war, or it will not exist at all, although border clashes are frequent, and even end with the death of people. I guess this will continue. Of course, the statements of Azerbaijani President Ilham Aliyev are quite tough and belligerent. Now Azerbaijan has a lot of own and imported weapons, and he thinks that he will overcome Armenia in the new war. The point, however, is that Aliyev cannot single-handedly resolve the issue of the outbreak of hostilities opposed by Europe, the USA and Turkey. They categorically warned Baku: not only that military actions, but also belligerent rhetoric will have a bad effect on Azerbaijan. But if the war does begin, it will be short-term and will not go beyond the limits of Transcaucasia.
Much more serious is the question of Iran. Americans, it seems, understand that the consequences will be very serious. However, in the Oval Office the possibility of war is considered. Israel will start it - it is he who is most afraid of the creation of a nuclear bomb by Iran.
Iran is already enriching uranium to 20%, it has many centrifuges. 20% nomination is widely used in medicine - Iranian medicine is highly valued in the Middle East. In addition, Iran, thanks to Russia, has a nuclear power plant, and, accordingly, is interested in self-enrichment of uranium. The Americans believe that uranium enrichment can be reduced to 90%, under which Iran can create nuclear
weapon
, during two years. Some time ago, the IAEA and other structures proposed Iran to enrich uranium for it in Europe and Russia, and then evacuate the remnants. Iran agreed to this. But Russia and Europeans took their words back. Accordingly, Iran has nothing left but to continue to enrich uranium.
I would like to emphasize that the spiritual leader of Iran, Khamenei, issued a fatwa a year ago, that is, a ban on the production of any weapons of mass destruction in the country. But the West does not believe this, although in Shiism, the order of the spiritual leader is obligatory for execution by absolutely everyone. In a word, I think, Iran does not want any bombs right now, it seeks to enrich uranium to 80%, and only if absolutely necessary to bring the matter to the end.
- Anyway, there is a feeling that Israel and the United States have made a decision and are now looking for reasons to attack Iran.
- In fact of the matter. An interesting point: the UN Commission concluded that the chemical weapons that were found in Syria during the fighting were not used by government forces, but by militants fighting against the authorities. Just the next day, American officials still said that it was not. And in the case of Iran, the situation is similar - it stood across the throat of both Israel and the Americans, since it is a very serious player in the Middle East. Firstly, Iran is closely linked with Syria, secondly, with Hezbollah in Jordan and with Hamas in Palestine. The Americans, despite holding honest elections in Palestine, did not recognize the victory of Hamas and declared Gaza Strip a terrorist territory. But what to do, the fact of the legitimacy of Hamas is obvious.
- How will Russia, Georgia and Armenia behave if Iran is attacked?
- Russia will not enter the war directly. But she and China are interested parties, and Russia will certainly help Iran with weapons. In addition, Russia will have problems with its military base in the Armenian city of Gyumri. Some time ago, due to the aggravation of the situation around Iran, Russia already had to evacuate women and children from this base. Later, when the situation was discharged, they were returned back. Of course, Armenia will be on the side of Russia, and, accordingly, of neighboring Iran, and Georgia will be on the side of the United States and NATO, this is guaranteed.
- Do I understand correctly that Georgia will not open a corridor for Russia to Iran through Armenia?
- For the supply of weapons to Iran, Russia does not need the Georgian corridor - for this, the Caspian Sea exists. In the event of a threat to a military base in Gyumri, the corridor will become necessary, but Georgia will not open it, and Russia will do it without Tbilisi's demand.
- That is, it will invade the territory of Georgia. What will the Americans do in this case?
- Of course, they will not like it, but they will not suspend the advance of the Russian troops - this is tantamount to a war on the territory of Georgia. Americans just close their eyes to the actions of Russia, as local.
- What do you think Georgia should do in order not to suffer from foreign military clashes and, at the same time, not to quarrel with Russia and the West?
- In due time, with obtaining independence, it should distance itself from America, from Russia, and from Europe. That is, to pursue a neutral policy. It is not too late now, although it is rather difficult. Georgia has few opportunities to choose from, but neutrality is still the best way out. Neutrality is not given simply, it must be agreed with the neighbors, the issue to the UN Security Council, etc. By the way, even before Saakashvili came to power, Russia supported the proclamation of neutrality by Georgia and was even going to help it in this matter. This topic can still be raised, but the current Prime Minister Ivanishvili will not do that. He talks all the time about joining NATO.
- If an attack on Iran takes place, will Georgia provide its strategic partner, the United States, with its own military infrastructure?
"She will do it, whether she wants to or not. However, the Americans and Israelis are unlikely to take military action until July." 14 will hold presidential elections in Iran in June, and much will depend on their outcome. If Mashai, the successor of current President Ahmadinejad, wins the election, then the war is unlikely to be avoided. The Americans have now promised Israel 3,5 weapons of a billion dollars and air tankers that run bombers right in the air. That is, the Americans, together with Turkey and Israel, will do everything to destroy the Assad regime in Syria, relations between Iran and Syria, Hezbollah and Hamas. And if Iran is ousted from this game, then there will be a big boss again, and as always, America will be.
- Do you think Russian-Azerbaijani relations will deteriorate on the basis of Iran? After all, Russia will support Iran, while the relations of Azerbaijan with this country are far from cloudless.
- Azerbaijan is a special article. He will not quarrel with anyone - neither with Russia, nor with Europe, nor with the United States, although he is the most self-sufficient and richest of the republics of the South Caucasus. Many have criticized the President of Azerbaijan for harshness and dictatorship, but he managed to create - of course, thanks to the large reserves of oil and gas - very stable relations in the South Caucasus. Suffice it to say that in the conditions of the USSR Georgia was considered the center of Transcaucasia, and now the political and economic center has moved to Azerbaijan. This republic is endowed with the ability and ability to maneuver, it has good relations with the United States, NATO and Europe, and normal relations with Russia, apart from some details.
In addition, Azerbaijan has a huge, the largest diaspora in Russia, and he will not risk it. Nor should we forget that Azerbaijan has close contacts with Turkey and other Muslim countries, some of which are not interested in exacerbating Russian-Azerbaijani relations.
I also recall that Azerbaijan is an alternative supplier of energy resources to the West and a promising transit country for Turkmen gas. In particular, it has been a matter of ten years to build a new Nabucco gas pipeline using the territory of Georgia, but this project causes great opposition from Russia. At the expert level, an opinion was even expressed that if the construction of this gas pipeline does begin without coordination with the Caspian littoral states, Russia has the right to bomb it. That is, the signal to Azerbaijan and Turkmenistan has already been given: not to get involved.
But Europe is very interested in this project, and it is being pushed by the United States. The Americans, by the way, want to organize in Maritime police in Azerbaijan, which, in fact, will control not only the South Caucasus, but also the North Caucasus, as well as Iran, Central Asia and China. So the region is very tense, and Russian interests in it will have to be taken into account. No wonder Brzezinski wrote that those who have power in the Eurasian space will influence world politics.
- Will Ivanishvili, against the background of his efforts to settle with Russia, agree to the construction of a new pipeline across Georgian territory? Once he made it clear that some profitable projects have to be abandoned in order not to harm the interests of neighbors. I guess he meant Russia.
- Of course, agree. Georgia is a transit corridor, two export pipelines are already running through its territory. Ivanishvili will not go against the desires of Europe and the United States, which, along with Azerbaijan and Turkmenistan, are the main players of this project. Whether they will eventually go to the construction of Nabucco is another matter.