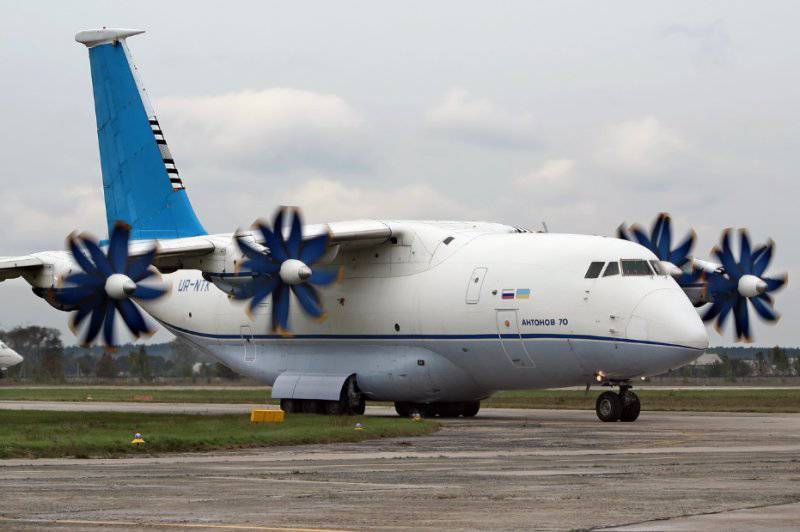 The Ministry of Defense of Ukraine suspended funding for the mass production of An-70 until the resolution of controversial issues with the State Enterprise Antonov. This was reported by a source in the Ministry of Defense, who wished to remain unknown.
According to him, the cause of the conflict lies in the misuse of the Antonov State Enterprise by means of the Ministry of Defense. "Three years ago, the Ministry of Defense transferred SE Antonov over 100 million UAH. for mass production of the first two An-70 aircraft, however, these funds were spent on re-equipment of production and purchase of equipment for the Antonov serial production plant, but not directly on the production of aircraft. The arguments that the rigging and equipment are used to produce the An-70 aircraft does not hold water, since the money was earmarked specifically for the manufacture of specific aircraft. Because of this, the Ministry of Defense has suspended funding for the project until the conflict is resolved, "said the source.
Deputy Minister of Defense - Chief of Staff Vladimir Mozharovsky indirectly confirmed this information, stating that the MoD jointly SE Antonov focused on testing the new aircraft, and the issue of serial production and its financing is subject to negotiation. "We are not abandoning the An-70 project, the Ukrainian army needs it, there are certain issues, they are being discussed, but in general the project is promising," said V. Mozharovsky. At the same time, he found it difficult to answer the question about the amount of funding for the project in 2013 from the budget of the Ministry of Defense and the possible purchase volumes of these aircraft. "We will proceed from the amount of funding allocated for the purchase of new weapons, but so far these volumes have not been determined," he noted.
For reference.
In 2012, according to the Defense Ministry's data on the implementation of the general state program for the creation of the An-70 military transport aircraft under the MO line, it was planned to allocate 306,8 million UAH, actually financed by 236,088 million UAH.