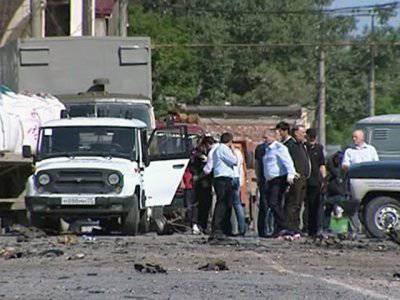 Double terrorist attack in Dagestan. As experts have established, the power of the second bomb was from 40 to 50 kilograms in TNT equivalent. The explosion killed four people, about forty were injured. On the eve, late in the evening, a special board of the Emergencies Ministry, equipped with medical modules, arrived in Makhachkala to evacuate the wounded. All last night, the doctors of the disaster medicine center examined the victims. There are 35 people in the hospitals of the Dagestan capital. Of these, 12 is in serious condition. Most affected will be sent for treatment in Moscow and Nizhny Novgorod.
Despite the late hour, the doctors of the Disaster Medicine Center left the plane quite cheerfully, saving every minute. A few seconds - to descend the ladder and a short greeting with colleagues.
In five special modules, a special board of the Ministry of Emergency Situations will pick up the most needy patients in Moscow and Nizhny Novgorod. Of the several dozen people injured by metal fragments, three are causing the doctors' concerns. And one of them is in critical condition. By decision of the medical consultation, it is not transportable. "Bolts, steel" - with pictures in the hands of the doctors list the items extracted from human bodies. During the night, doctors and rescuers went around five medical institutions where 40 victims were located as a result of the terrorist attack. We started with the Center of Traumatology, where the operations do not stop: the first victims were brought here.
On frames taken a few seconds after the explosion - fragments of cars, people in bloody clothes are selected through the smoke screen. It is heard, as those who lie in the epicenter call for help. Passersby call an ambulance.
Double blast is a tactic of terrorists used by them all over the world. In recent years, it is often used in Dagestan. The first device, usually not very powerful, should attract as many people as possible to the place of emergency: civilians and policemen. And then the second bomb is triggered.
Both landmines worked at rush hour, on a busy street next to the Bailiff Service. With an interval of 10 minutes, the 2 of the car took off. The FSB reported that the criminals blew up the car remotely - using car alarms. Intelligence officers investigate in detail the video from all surveillance cameras and find out who parked the "nine" with explosives and striking elements. It is assumed that she was hijacked specifically to commit the attack.