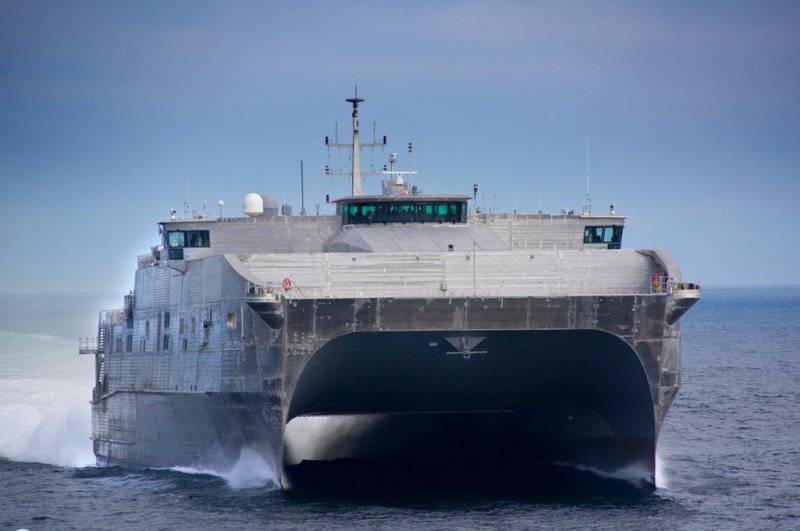 Multi-purpose high-speed amphibious assault ship-catamaran JHSV-2 (Joint High Speed ​​Vessel) Choctaw County (Choctaw County) successfully completed acceptance tests in the city of Mobile (Alabama). This was reported by the US Navy.
This is the second 10 of the Spiehed-type JHSV (Spikehead Wing), which is being built to command the US Navy's shipping industry at the Austal USA shipyard in the city of Mobile.
The ship was presented on the 5 days of an independent commission for inspecting and accepting US Navy INSURV (Board of Inspection and Survey) ships to assess the material part and conduct tests, including tests in the open sea, which took place in the Gulf of Mexico. During the acceptance tests, the main systems and equipment of the ships were evaluated, including the operating modes at full speed and the demonstration of the monitoring and control systems of the main power plant (GEM), anchoring, crew support. During tests at sea, the ship developed speed over 40 nodes (75 km / h).
The JHSV ship is a ship of 103 m length and 635 tonne displacement. The power plant consists of 4 diesel engines MTU 20V 8000 M71L 9100 kW and jet propulsion engines, allowing them to reach speeds over 31 nodes (65 km / h) when fully loaded.
The JHSV catamaran is the next generation multi-purpose landing ship to be used jointly by the US Army and Navy. The vessel is intended for the transfer of troops and cargo, support for humanitarian missions, as well as operations to assist victims of natural disasters. The vessel is capable of operating in shallow fairways and shallow sea routes, transferring military equipment, including basic combat
Tanks
Abrams M1A2. On the upper flight deck of the ship take-off and landing of aircraft can be carried out.
On the second JHSV catamaran, aviation-type armchairs were installed to accommodate 312 troops with full equipment.
The head multipurpose high-speed amphibious assault ship is the JHSV-1 (Joint High Speed ​​Vessel) catamaran Spiehed (Spearhead, "wedge edge") was delivered by the US Navy in December 2012 and is currently undergoing after-delivery tests, including refueling at sea , working out the loading of goods on board, the preparation of an additional crew.
JHSV ships are designed to commercial standards with minor modifications for military use.