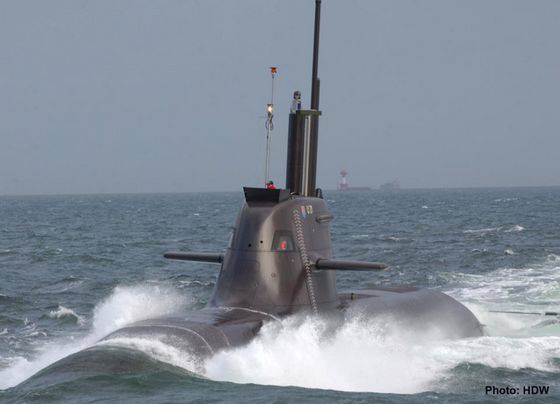 At the ThyssenKrupp Marin Systems' facility in Kiel, the baptism ceremony of a non-nuclear Type-36A class U-212 submarine intended for the supply of the German Navy was held.
The U-36 is the sixth and final Type-212A class submarine ordered by the Federal Defense Technology and Procurement Agency (BWB) for the German Navy.
The U-36 is the second of the two Type-212A submarines ordered in the second batch. Four submarines of the first batch were adopted from October 2005 of the year to May 2007 of the year. Bookmark U-35 held on 21 on August 2007 of the year.
The contract for the supply of the second batch of Type-212A class naval submarines (U-35 and U-36) was signed by BWB with the consortium "ARGE 2. Los 212A »22 September 2006 of the year. The construction of submarines is carried out at the facilities of the Hovaldsvorka Deutsche Werft (HDW) in Kiel and Emden Wert und Docbetriben in Emden.
The launch ceremony for the U-35 submarine took place on November 15, 2011 at the HDW facility. As planned, it will become part of the German
fleet
until the end of 2013. It is expected that the U-36 will be adopted in 2014.
According to Jaynes Navy International, the new submarines with a length of 57 m and an underwater displacement of 1860 and "Party-2" have a number of differences from the first batch of submarines, including the equipment of an air-independent power plant.
Given the emergence of new technological developments in the design made some modifications. In particular, the NNS are equipped with a SERO 400 periscope and an OMS-100 optoelectronic periscope manufactured by Carl Zeiss; the integrated automated battle control system ISUS (Integrated Sensor Underwater System) of Atlas Electronics, instead of the combat control system MSI-90U of the Norwegian Kengsberg installed on the first four boats a lock chamber for five people for covert release of submerged swimmers; towed by call buoy Callisto. The new GAS kit includes an advanced Atlas Electronics FAS sonar with side antennas.
Modern technologies are used in the design of submarines to reduce the acoustic and thermal signature.