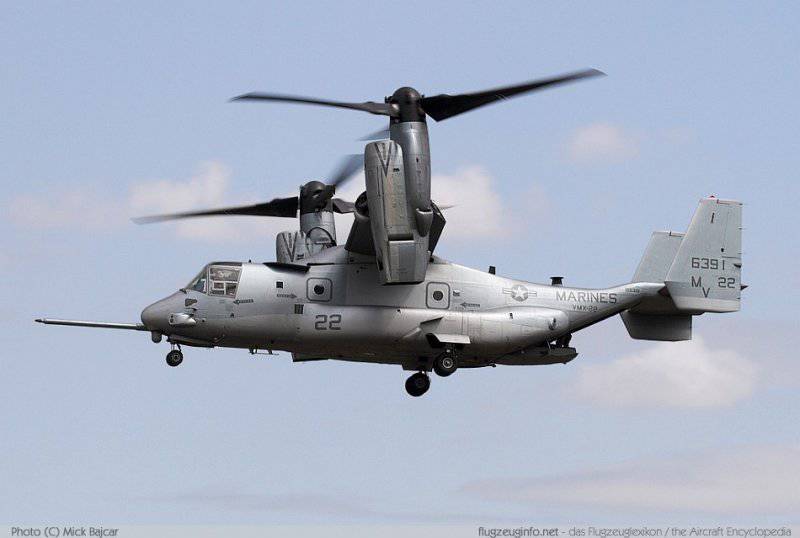 The Liberal Democratic Party plans to recommend to the Japan Self-Defense Forces to acquire American convertible planes MV-22 Osprey for the defense of the country, reports The Japan Times 17 in May, citing sources in the party.
Japan's acquisition of these convertiplanes would show the country's determination to increase its defense capability, including on remote islands such as Senkaku. However, the public is concerned about the safety of operation of these devices when the US Marine Corps placed Osprey in Japan last year.
The LDPI will include the issue of purchasing convertoplanes in its defense program proposals, final proposals should be developed by the end of this month.
The administration of Prime Minister Shinzo Abe, who is considered a nationalist in both Japan and abroad, plans to develop new defense strategy guidelines by the end of this year amid heightened tensions with China over the control of Senkaku Island.
The MV-22 Osprey can land and take off like a helicopter, and fly like a plane. 12 of these vehicles were deployed in Okinawa, despite protests from the local opposition because of a series of accidents these vehicles abroad and when US marines began to fly Osprey at low altitude.
The Department of Defense allocated 8 million yen to the 2013 fiscal year to examine whether the Self-Defense Forces should be equipped with these machines. Defense Minister Itunori Onodera (Itsunori Onodera) has already expressed his willingness to purchase Osprey, given their high mobility. There will also be considered the issue of increasing the share of military spending in relation to GDP (gross domestic product) to a level close to the United States and Germany.