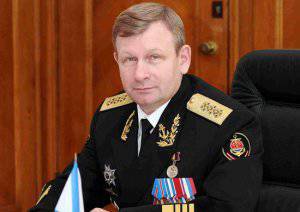 The new nuclear aircraft carrier created in Russia must surpass all ships of this class existing in the world. This was stated today by ITAR-TASS by the Commander-in-Chief of the Russian Navy, Admiral Viktor Chirkov.
"Work continues on the creation of a promising new nuclear aircraft carrier for our Navy. These works are carried out by a number of design bureaus and defense organizations in St. Petersburg. The results of the work on creating the appearance of a promising aircraft carrier are regularly reported to the Russian Defense Ministry and the Commander-in-Chief of the Navy," he.
"We need an aircraft carrier, not yesterday and not today, but a really promising ship capable of performing tasks in cooperation with groups of surface ships, submarines, orbital grouping of spacecraft. It must have the broadest capabilities for conducting combat operations in a situation of any complexity, on any maritime and the ocean theater of military action ", - said the commander in chief.
According to him, the new Russian aircraft carrier "must surpass all existing ships of this class in its seaworthy, combat and functional characteristics." "This is our strict requirement for the industry, and we will not give up on it," stressed Chirkov.
Currently, the Russian Navy has only one heavy aircraft carrier, the Admiral Kuznetsov, in service with the North
fleet
. There is a program for its modernization until 2020.
In December, 2012, Chirkov announced that serial construction of new domestic aircraft carriers would start from 2021. "During the 2021-2030 period, our combat potential will be increased by serial construction of promising aircraft carriers as part of the naval aircraft carrier complex, 4-generation multipurpose nuclear submarines, multipurpose ships of the ocean, far and near sea zones," he said then.
Chirkov said that the creation of a naval aircraft-carrying complex implies not only the construction of aircraft carriers themselves, but also bases with the necessary infrastructure, aircraft, crew training centers.