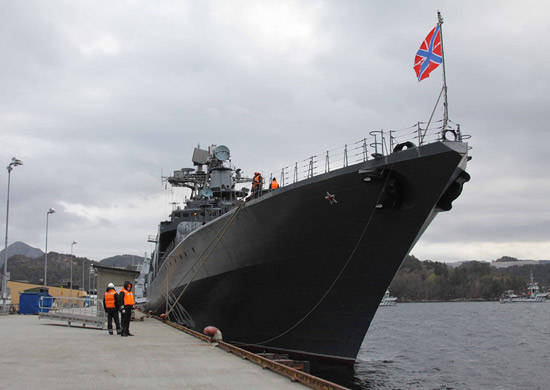 At the Hawksonsvern Naval Base (Kingdom of Norway) aboard the North Large Antisubmarine Ship (BOD)
fleet
(SF) "Vice Admiral Kulakov" summed up the results of the Russian-Norwegian naval exercises "Pomor-2013". The interaction of the sailors of both countries was recognized as successful.
At the end of the active phase of the Pomor-2013 naval exercise aboard the Vice Admiral Kulakov BOD, which had made a business visit to Hokonsvern, a briefing was held on the results of the international exercise. The final reports of the officers who led the Pomor-2013 exercise from the Russian and Norwegian sides were heard by the Chief of Staff of the Western Military District (ZVO), Lieutenant-General Andrei Kartapolov and the Chief of the Chief Operational Command (GOK) of the Norwegian Armed Forces (ARC) Vice-Admiral Haakon Brun Hanssen.
"We need to expand the scope of cooperation, to proceed to working out the elimination of crisis situations at sea as part of disparate ship groups," said at the end of the briefing, Lieutenant General Andrei Kartapolov.
"We express confidence that further fruitful cooperation, development of naval skills and tactics of our naval forces will be useful for strengthening good-neighborly relations between our countries and the armed forces," he concluded.
In response, Vice-Admiral Haakon Brunn-Hanssen, head of the Norwegian mine of the Armed Forces, stressed that "mutual understanding and cooperation at sea are beneficial for strengthening relations between Russia and Norway. I am glad that all the goals were achieved by 100 percent. Crews of ships want to complicate the episodes. I consider it my duty to note the high level of training and professionalism of the crews of ships and all units that were directly involved in the conduct of marine operations. "
The Pomor-2013 international exercise, which started on May 11 in Severomorsk, was attended by the Northern Fleet's BPC Vice-Admiral Kulakov and the Norwegian Navy frigate Helge Instad. In the Barents Sea, the Senya frigate of the coast guard of Norway joined the exercise. A total of 10 warships and support vessels, as well as maritime planes and helicopters, took part in the exercises on both sides.
aviation
SF and Norwegian Air Force.
The first doctrine "Pomor", held in 1994, was a separate episode of the interaction of the two ships. Completed the day before, it became a large-scale doctrine on cooperation in repelling air strikes, fighting sea terrorism, artillery firing and search and rescue support measures.
In addition to the crews of the ships, naval aviation units of the Russian Navy and the Norwegian Air Force, marines, coast guard units and sea rescue coordinating centers of both countries take part in the Pomor exercise every year.
Today, in the city of Bergen, more than 200 seafarers from the North Sea from the crew of the BOD Vice Admiral Kulakov will take part in the festivities dedicated to the Constitution Day of Norway.