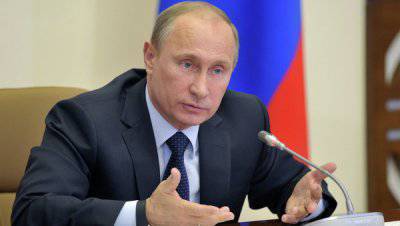 The topic that has recently been scared of Russia is no longer hamster instability and international flogging for a position on Syria. With this, thank God, the president of Russia has already figured out and, apparently, this finds the understanding and full support of the Russians. Those who are still talking about something like muttering could appreciate how the lepers felt in the Middle Ages.
Now there are simply no real topics to which it would be necessary to respond. So you need to invent them. Why should I forgive so hard to try? The answer here is simple - to intimidate and have at least some leverage. Because neither the United States nor the EU has any real levers of influence on Russia. Generally no. So, there should have been such a topic that should hit the very heart of the Russian economy. Such a topic was found - shale gas. It may seem that shale gas production has developed without regard to Russia, and this will be true, but the topic is still dragged behind the ears by gentlemen from overseas and generously flavored with speculations on this topic. Is Russia ready for this turn of events? It turned out that she was ready, and even as ready.
I must say that what we are so persistently assured is not quite so, and even not at all. For example, it is said that the United States can supply Europe with gas, as it is about to become an exporter from gas importers. The author will allow himself to doubt both in one and in the other. Let's try to speculate on this topic.
Everyone remembers the thunders of thunder declaring the development of shale gas reserves in Poland with a volume of 5,3 trillion cubic meters. m, which is enough for 300 years of consumption. And what, I ask you this time? What happened to this very shale gas? I will be forced to answer myself that nothing has become. Those companies that loudly declared their intentions to "give gas" in abundance, as they say in the whole baptized world, one by one were blown away quietly. In addition, the Polish stocks themselves were adjusted downward by 90%!
Let's talk about it specifically with names and numbers. So, three companies briskly entered the game, two of them were American: Marathon Oil and Talisman Energy and the Polish state-owned company Lotos. Already at the end of the first quarter of 2013, it became clear that all this was a manufacturing bullshit, and this belief was not just. So, Marathon Oil stated that it sells its rights to develop shale deposits in 2014 and the declared value of these rights is $ 12mln. The company has identified its attempts to find shale gas as "unsuccessful."
The second American company Talisman Energy also decided to leave the Polish shale gas market, and they say that they want to get their assets from the Irish San Leon Energy. Polish state-owned Lotos entered into an agreement on joint development of 4 sites with PGNiG, but the matter did not go further. PGNiG later stated that it supports the idea of ​​developing shale gas, but this is not related to cooperation with Lotos. That is, in this case there was a puncture.
However, the greatest blow to the idea of ​​self-sufficiency in Poland with gas was the actions of ExxonMobil, which sold its assets immediately after the forecasts for the presence of shale gas in Poland were not confirmed after drilling. In order to sweeten the pill, it was said that the cost of gas production is extremely high and the cost of gas will be about $ 300 per 1000 cube. In the USA, this figure is approximately the same, but there is a government subsidy in $ 1000 for every 200 cubes. Now I see why the price is $ 100? It is also probably clear why it cannot be less than $ 350 when delivered to the EU. In this case, there will be no subsidies, but there will be transportation and cheating, so also under 400 bucks - take it out and put it down.
Next begins quite funny
история
, which brings to clear water the failure of arguments about cheaper shale gas. After the announcement of the high cost of Polish gas, oddly enough, 111 drilling permits were issued. Investors are not fools at all, and they, of course, understand that if the US has enough gas for almost $ 100 for 1000 cubes, then what's the point of investing in drilling to produce gas for $ 300? Investors are not like sick people. Where it will be more convenient for them to simply buy up gas in the USA and deliver it to the same Poland, and the jackpot will be much larger.
Nevertheless, apparently, it is not so simple here - the reader will understand and, of course, he will be right. First, in the US, shale gas forecasts are inflated to disgrace. Secondly, gas in the United States is so low in price only because of government subsidies, and only because there is no such market for the United States in such volumes, of course. Even near big New York, there is no gas in some towns on Long Island. There both heating and hot water are heated by electricity. What can we say about some North Dakota forgotten by God. If only gas starts flowing outside the United States, and there is already permission for such exports, prices will immediately go up, because American gas will have a market that is not there now and there will be no more subsidies. The capitalists do not have such a law to trade goods at half the market price.
This is confirmed by the same investors who buy drilling concessions based on the cost of $ 300 per 1000 cubes. They understand that the price will be high. That natural gas and oil will always be more profitable. The Polish newspaper Dziennik Gazeta Prawna writes that the state-owned Lotos decided to return to the exploration of traditional hydrocarbons. Polish Ministry of Economy prefers to evade comments on these topics.
This is where everything really begins. Russian President Putin understands very well that the fear is best driven up by prices on the exchanges. Remember what happened to oil after landing Khodorkovsky. Very good carom when the thief is punished and the prices of hydrocarbons soared. Putin is a great master in politics, since his policy so firmly holds the economy in a heated state and drives prices up. Well, of course, wars in the Middle East also help.
And now it has been stated that the country needs to build more gas stations. That is, Russia plans to consume more of its own gas, and against the background of negative forecasts for shale gas in Poland and a categorical ban on the development of shale gas in Germany, of course, prices will not only not fall, but even climb up. In addition, if gas consumption increases in Russia, Western investors will come to this sector of the economy. The prices for gasoline and gas in Russia are only growing, with this you can make good and safe money today. Well, who can tell come to the Russian market and interrupt the trade? Oh, in any case, not Poland with shale gas and not Ukraine either. Moreover, these two very small countries will continue to be consumers of Russian hydrocarbons at higher prices. By the way, the statement that Ukraine reduces the consumption of Russian gas is not true. This is the case here. Naftagaz really reduced gas purchases for Ukraine, but now private companies are buying more gas and are also oriented to the Ukrainian market, so there are no miracles here. Here we are dealing with another phenomenon, when the state Naftogaz is simply being squeezed out of the market, that's all. There is no decrease in Ukraine's dependence on Russian gas.
As for the Germans, their decision is completely understandable. The Germans decided to abandon nuclear energy due to ecology. But this is located on the surface of the earth and is quite amenable to some kind of recreational measures to restore the environment in the event of an accident at a nuclear power plant. In the case of shale gas, the solution that breaks the layers, it is sand water and chemicals that are injected into special underground tanks after use, it is not possible to check their tightness, they are more dangerous than nuclear power plants on the surface. The leakage of chemically dirty waters, and their ingress into underground aquifers, cannot be controlled. One day a country may be without its own reserves of pure fresh water, and plus will cause environmental damage to its neighbors. So what is "abstinence" is quite logical.
The US policy looks interesting. As is known, the United States kept their wells sealed due to fears of contamination in oil and gas production. And they are not afraid of poisoning the environment with chemicals for hydraulic fracturing of shale formations. Is it so? Of course, not so. Shale gas - this is another layout, which "bloody Putin" is not conducted. Moreover, it seems that he manages not only to play the situation, but also to make significant progress.