The transfer of four Su-34 front-line bombers to the Russian Air Force will take place at the Novosibirsk Aviation Production Association (NAPO) at the end of December. This is the final batch of production cars that the Air Force should have received in 2010. In the future, the pace of their supply will increase. New aircraft from Novosibirsk will be distilled to Lipetsk, on
aviation
air force base.
The state contract for the supply of the next party Su-34 by the Russian Air Force was signed between the Ministry of Defense and the Sukhoi company, which includes NAPO, in 2008. Such aircraft are in service with the Russian Air Force 2006 year. In the future, they will replace the Su-24M front-line bombers.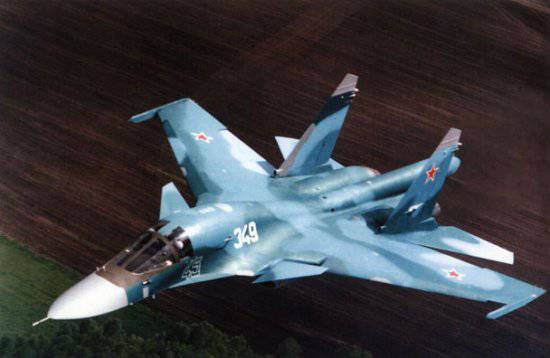 In terms of combat capabilities, the Su-34 belongs to the generation of the 4 + aircraft. Regardless of the time of day and weather conditions, the machine can effectively hit ground, sea and air targets in any geographic area with the use of the entire range of aircraft ammunition, including precision ones. The presence of an active security system on the plane, along with the latest computers, provided additional opportunities for the pilot and navigator to conduct targeted bombing and maneuver under enemy fire.
Installed on the Su-34 equipment allows you to apply
weapon
on multiple targets simultaneously. Excellent aerodynamics, large capacity of internal fuel tanks, highly economical double-circuit engines with a digital control system, an in-flight refueling system, as well as a suspension of additional fuel tanks ensure that the Su-34 can fly long distances approaching the flight ranges of strategic bombers.
Su-34 confirmed its high combat capabilities and flight qualities in the course of the Vostok-2010 military exercises held last July. When performing a combat mission, the aircraft made their first non-stop flight with in-flight refueling from the European part of Russia to the Far East with subsequent strikes. In the near future it is planned to increase the combat potential of machines with new aviation weapons of destruction.