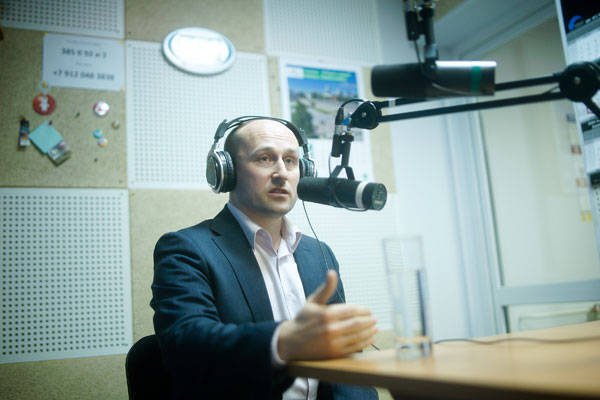 During the work of the Izborsk club in Yekaterinburg, I gave an interview to Rossiyskaya Gazeta, which I bring to your attention.
"Reconcile red and white
Nikolai Viktorovich, why was the regular meeting of the "Izbortsevs" held in the Urals?
Nikolai Starikov: The current meeting of the Izborsk club is devoted, in my opinion, to the most important problem - the reconciliation of the Reds and Whites. In the broad sense of the word: the Soviet and imperial beginnings in our
stories
and culture. It is necessary to stop the civil war, which ended many years ago in the hot phase, but still continues in the pages of books, newspapers, in the Internet space, and most importantly - in the heads. And in this sense, Yekaterinburg is the sign point at which the tragedy of the execution of the royal family took place, so it was he who was chosen to hold this meeting.
What is the essence of the tragedy of Russian history, which happened twice in one century - in 1917 and in 1991? The fact that Russia has become a lot. What alternative could a Russian have in 1812? Here is Russia, and here is the enemy. And in 1917, he could be for Russia "red" in the Bolshevik version or "pink" in the version of the Left Socialist Revolutionaries, for "green" Russia Makhno's fathers, for Russia "white". And the patriots began to fight each other. The same thing happened in 1991. Under the slogan of national independence, a single people was divided into several parts. And now the most important thing is to make Russia once again become one.
Members of the club were still persona non grata for the authorities 15 years ago, the press called you "red-brown". Today you are received in the House of Sevastyanova - the residence of the Russian president in Yekaterinburg. What does this mean? That the authorities in Russia and the regions began to listen to the patriots?
Nikolai Starikov: First, the world has changed. If 15 years ago we had been seriously discussing the collapse of the eurozone, the collapse of the dollar and the next global military conflicts, we would probably have been taken to an insane asylum. Today it is a reality, and it pushes the authorities towards the state-minded patriotic opposition. On the other hand, we must pay tribute to those people who, even in moments of general insanity, continued to say that white is white and black is black. I mean, first of all, Alexander Prokhanov. The combination of such people largely helped to reverse the situation: there is an enlightenment in the minds of others, and blinders are falling from their eyes. Well and the most important thing - after all, 15 years ago in Russia was another president. Therefore, the factor of change in the Russian elite also played a big role.
How do you feel about the president's initiative to create a single history textbook?
Nikolai Starikov: This is a major initiative, but the question arises: who will write this textbook? If Mlechin and Svanidze write it, then such a textbook is definitely not needed. Because slander and lies will suffice without it. If the textbook will be edited by Echo of Moscow, I think it is also not needed. It is very important to form a group of experts standing in patriotic positions who can impartially and truthfully tell schoolchildren the history of our country. At the same time, it is very important to achieve reconciliation of the red and white. Because in a single textbook should be given a true assessment of the October Revolution. It is necessary to tell that the external forces made every effort to ensure that it took place. And that revolutionaries acted as a destructive force that destroyed our statehood. But then the same revolutionaries by the will of fate became the statesmen. And you need to choose both from red and from white who are worthy of being called heroes: let them be on opposite sides of the barricades, but they honestly fought for the kind of Russia they wanted to see it.
Your books are actively read by the older generation, for whom the personality of Stalin is more connected with the positive, with the great achievements of the Soviet people. But for several generations of Russians brought up in denunciations of the Soviet regime. Are they ready, in your opinion, to reconsider their attitude to the history of the country?
Nikolai Starikov: Actually, only one of the 11 of my books is dedicated to Stalin. I do not write only about one person, but I try to give the reader an idea of ​​economic and political processes. It was just that at a certain stage a desire arose, and the readers asked to tell about the figure of Stalin as about a certain point where history, politics, and geopolitics broke. As for young readers, they are more actively seeking to learn something. And I must say thank you to the de-Stalinizers for this: they poured so much of every possible negativity that people inevitably have a desire to find out the truth - well, this can not be, because only they did not eat babies, did everything else! A negative attitude towards Stalin often results from ignorance - and then it changes when immersed in the material. Or there is a conscious unwillingness to change your perception of this period of history. That is, Stalin is a litmus test: tell me how you feel about Stalin, and I will tell you who you are according to political views.
By the way, the age of my readers is very different: once at a meeting I spoke with a 12 boy of years, and an 89-year-old woman gave me thanks for her book through her son. By the way, Ekaterinburg ranks fourth in the statistics of visits to my site - after Moscow, St. Petersburg and Kiev.
No purpose no movement
Many thinking, educated young people today are disappointed: they cannot find themselves in reality.
Nikolai Starikov: Disappointment in life is quite a frequent occurrence at this age. There were young people who felt that they did not realize themselves in Tsarist Russia. And they went to the nihilists, to the bombers, and someone just quietly sniffed cocaine or drunk off. Then there was the Soviet era, when there was a super goal, which is extremely important for Russian civilization. In that period, there was practically no lost generation, although there were those who didn't like much in the Soviet Union, who felt their discrepancy with reality, but there were simply fewer of them. Then, under Khrushchev and Brezhnev, the super-goal slowly began to be replaced by small goals of consumption, which fundamentally does not correspond to our mentality. It was during these times that the wholesale drunkenness began - precisely because the super-goal disappeared and an emptiness formed in its place. Today, our people have no super-goals, so many people feel lost. Actually, the whole nation feels lost, because instinctively a man of Russian civilization understands: a new phone or a new blouse is not the goals for which he lives. He cannot feel the joy of having more fruits in yogurt. A man of the Russian civilization needs a super-goal, a national idea that is not formulated today.
In modern society, even completely prosaic personal goals — for example, to become rich — are unattainable for most. Because everything has long been captured and shared.
Nikolai Starikov: You know, the idea of ​​becoming rich has never been especially popular in Russia. This, by the way, is our fundamental difference from the people of the Protestant religion and even Catholics. Their wealth means that God favors you. In the Russian person, everything is measured by moral categories, and wealth is not an end in itself. Moreover, only in our country can a person even somehow be a little shy of his wealth. Not that it was a negative attitude - just wealth is not the only criterion that forms an opinion about a person. We are not enough, as in the West, just to have a large bank account to be respected. You still have to be worthy, set an example, help others.
One of the tasks of society is to make social elevators work more actively, so that every citizen has the opportunity to achieve his goal. In this regard, my colleagues and I categorically stand for free higher education. Because it is unfair to measure the volume of a person's wallet, and not even his, but his parents. If we want to raise a new elite, we must open the doors of universities for all who want to learn.
Today we see an education reform that replicates the Western model, which leads to one result - the appearance of a large number of seemingly intelligent, and in fact very limited people, who are knowledgeable in a narrow sphere, but who possess a minimum of knowledge, even in related fields. They do not know history, literature, and therefore they are easy to manipulate. We sometimes laugh at Americans who believe any nonsense, but in fact they have not fallen from the moon. This is the fruit of a certain education system, and such a system is being imposed on us.
Inverted economy
Today, the Russian economy is also set to imposing Western values ​​on people in order to spur consumption of goods and services. A generation of consumers has grown. How to change their mentality, so that the person engaged in productive labor was honored, and not the one who can afford to buy the fruits of this labor?
Nikolai Starikov: One of the ancient Roman wise men, Caton the Elder, said: a city in which tasty fish costs more than a working bull is doomed. His words refer to the entire world economy. See which professions are the highest paid today? - those that have the least relation to real production: a banker, a broker, a lawyer ... And vice versa, the minimum wages in agriculture and industry are where foodstuffs or means of production are produced. The whole world is on its head. To infinity, he can not stand. Bankers put common sense upside down, and sooner or later this economy will inevitably fall. When this reality knocks at home, as it is already knocking at the homes of residents of Cyprus, it will become obvious: only work in agriculture or another manufacturing sector is important, necessary and able to feed a person.
Alas, people who are not very familiar with history, geopolitics, economics, do not see that this whole wonderful world hangs in the balance - the thinnest thread that can break at any time. But those who created such a world know this perfectly well. And therefore, they are trying to solve the problems facing the world economy, choosing methods for this that are not the most pleasant for all other countries - for example, war or economic crisis.
Can you think Russia can make a difference? If not on a global scale, then at least in its economy.
Nikolai Starikov: The problems of today's Russian economy are associated exclusively with the consequences of 1991 of the year. This is de-industrialization, deliberately carried out by our "reformers", and, as a result, the inclusion of Russia into the world economy. The current financially oriented economy, which is built on making money out of thin air, is clearly stalled. Today, this is noticeable not only to specialists, but also to ordinary citizens. The recent example of Cyprus is indicative, when the so-called democratic countries, which constantly insist on the inviolability of private property, unexpectedly passed a law that backdates money from depositors. Thus, I ask you to note, undermine the credibility of the entire banking system - not only Cyprus, but also the European Union and the whole world. That is, things are so bad that the system can no longer function normally, which means that sooner or later - in the foreseeable future - it will be dismantled.
We fit into this system, therefore, all its problems are translated into our economy. Moreover, since we are included in this system as subordinates, any ordinary citizen will understand: the chief, first of all, reduces wages and social benefits not to himself or his beloved, but begins with subordinates. Today we are in a situation where economic difficulties primarily affect us, and only the second - on those countries that have built this system. At the federal level, Russia is forced to provide assistance, and in fact pay tribute to the West in the form of buying unsecured bonds. There is a pumping of money from the domestic economy, therefore, its development is hampered in all regions of Russia, including here, in the Urals.
What to do? In my opinion, if the opinion of the majority of Russian citizens contradicts the documents of the Council of Europe, it means that Russia must withdraw from the Council of Europe and pursue the sovereign policy that it considers necessary on its territory. There is nothing terrible in this: Russia from Europe, as well as from Asia, is not going anywhere.
Usually your opponents in such cases recall the times of the Iron Curtain.
Nikolai Starikov: The Iron Curtain was dropped from the West, not from the Soviet Union. In those days, we had a permit procedure for going abroad, and the West said that he was ready to let everyone in, this evil Soviet Union would not allow. But as soon as the USSR ceased to exist, the West immediately introduced a visa system for citizens of the former Soviet Union. Because it is very convenient to be a democrat when someone else performs certain unpopular functions. Can someone remember that good things have come to us from the West? In addition to the Nazi army, drugs and gay parades - nothing. You do not need to be afraid of the West, but you do not need to build it on a pedestal either. It is just a different civilization than ours. It is necessary to cooperate with it, to search for points of contact. But at the same time understand: it is our competitor, who will always try to weaken us, fight for their interests, and not for ours.
In search of healthy forces
Previously, we were taught that the mission of the proletariat is to return social justice. Is there a real power in society today that can put the world on its head?
Nikolai Starikov: Let's not be naive: Marxism and other left-wing movements created abroad, and then thrown into Russia through the revolutionary channels, in fact did not pursue the goal of building a fair state and a happy society in our country. Their true goal was the destruction of Russia - one of the competitors of our Anglo-Saxon "friends". That's all. Another thing is that in the end, those who destroyed the Russian empire turned out to be quite talented and purposeful people and were able to build a new state on the basis of new principles. If the leaders of the current Russian opposition were in their place, they would simply have pooled their gold reserves in their pockets and fled to their native London and Geneva. No one, despite the beautiful slogans, was ever going to build a kingdom of workers who governed the state.
I am now trying not to find historical justice, but only to understand: are there healthy forces in today's Russian society, and where are they?
Nikolai Starikov: There are always healthy forces in society. But nothing ever happens on its own. It does not happen like we are told: they say, in 1905, people themselves took to the streets and built a barricade. People are law-abiding, they will not just build a barricade: they do not know how, and scary. For this must come a few revolutionaries - gorlan-leaders who will begin to build this barricade and podzador others. Need leaders. A similar situation is not only with destructive forces. In a society, 90 percent power is always healthy. But someone must lead them in order for them to act. Unfortunately, a person is not always able to act even in a positive direction for himself, as a child is not able to restrict himself in eating sweets. As they said in Soviet times, there must always be a guiding and guiding force. And the main problem of today's Russian society is that there is no such force. There is no idea and no power to put forward this idea.
That is, in any case need some kind of elite?
Nikolai Starikov: Of course. The role of the elite in society is to lead the people and work for the good of the state. Today the elite is more like foam floating on the surface. They live in the West, hold money there, think in Western categories and sometimes do not feel their connection with Russia. Therefore, the first thing that should happen to change the situation in Russia is that the elite should change, new people come, who will start working for their people.
In your opinion, the main task now is not the enlightenment of the broad masses of the people, but the formation of a new elite?
Nikolai Starikov: One is inseparable from the other. Any idea, as Vladimir Ilyich said, only becomes a force when it masters the masses. Therefore, the promotion of ideas, bringing them to the masses - one of the most important tasks. But at the same time, it is also necessary to educate the elite, including searching among the people of those who can easily explain these ideas and lead people. After all, generations of politicians inevitably change. Therefore, if we do not look today for those who will come to rule the country tomorrow and the day after tomorrow, our geopolitical "friends" will do it for us. "