At the 6th international exhibition HeliRussia 2013, which takes place at the Crocus Expo Moscow Exhibition Center from May 16 to May 18, 2013, the Ka-226T helicopter (tail number 241), transferred to
aviation
Ministry of Emergency Situations of Russia a few days before. The helicopter was built at OJSC Kumertaus Aviation Production Enterprise (part of OJSC Russian Helicopters) and became the first production machine of the Ka-226T modification, distinguished mainly by the use of Turbomeca Arrius 2G1 engines instead of Rolls engines previously installed on the Ka-226 series helicopters -Royce 250-C20R / 2. To date, there have been only two flight prototypes of the Ka-226T.
This Ka-226T helicopter with a medical module was ordered by the Emergencies Ministry in the singular under a contract with Russian Helicopters from 21 August 2012 cost 236,2 million rubles following a tender, the results of which were summed 7 August 2012. The helicopter is intended for permanent basing in Kazan.
The delivery of this helicopter was made with a considerable delay compared with the contractual terms - about the vicissitudes around this order
писал
colleague alexeyvvo. According to colleague alexeyvvo, in 2012, the Ministry of Emergency Situations posted on the official website of the state procurement two notices for the delivery of one Ka-226Т helicopter. The first contract was concluded following the purchase of 21 in August with the delivery date of the machine to 1 in December 2012, the price of the helicopter was 236,2 million rubles. The second purchase was declared invalid, but the agreement was still concluded on December 7 after coordination with the FAS Russia. According to its terms, the second Ka-226T will cost the budget already 249 million rubles, and this aircraft must be transferred to the customer no later than September 2013.
Since the first Ka-1T ordered by 2012 was not delivered to the Emergencies Ministry on December 226, an additional agreement was signed by the parties on December X. Under the terms of which the delivery time was extended to February 5. At the end of 2013 of the year, even the special Order of the Russian Government was issued regarding the delivery of the Emergencies Ministry modernized Ka-2012T. 226 February 6 of the Ministry of Emergency Situations sent a letter of claim to OJSC Helicopters of Russia in connection with the non-performance of the contract, and 2013 February - a letter to the FAS Russia on the inclusion of OJSC Helicopters of Russia in the register of dishonest suppliers. As a result, the helicopter was delivered only in May.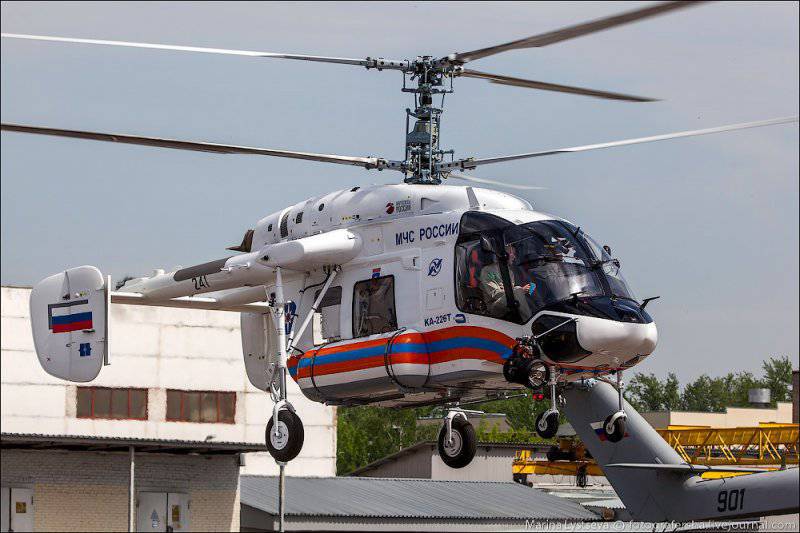 The Ka-226T helicopter (tail number "241"), built for EMERCOM of Russia, during the flight from the base of the OJSC "Helicopters of Russia" in Tomilino to participate in the HeliRussia 2013 exhibition.