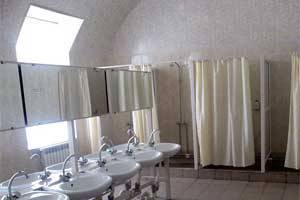 The Department of the Press Service and Information of the Ministry of Defense transmitted to the mass media data on the progress of work on the arrangement of the soldiers' barracks and dormitories by showers. This work in accordance with the instructions of the Minister of Defense Army General Sergei Shoigu organized by the relevant departments of the Ministry of Defense and is carried out in the framework of maintenance, reports UPPS.
At present, specialists of Slavyanka OJSC have carried out maintenance and installation of more than 15 thousand shower cabins in the departmental barracks and housing fund, the military inform. In addition, in 2013, the Spetsstroy of Russia, within the framework of the state contract on the arrangement of 50 prospective military camps, will be installed around 2,5 thousand shower cabins. Until November, 2013 will be installed around 49,5 thousand shower cabins in the places of residence and service of military personnel. Their greatest number will be mounted in the Western Military District (about 29 thousand), in the Southern Military District (8,1 thousand), in the Central Military District (7,4 thousand) and in the Eastern Military District (5 thousand).
According to these figures, it is possible to judge where and how many troops are concentrated or where the barracks and housing stock most of all needs the usual comfortable conditions for organizing normal service and living for the military of the Russian army.