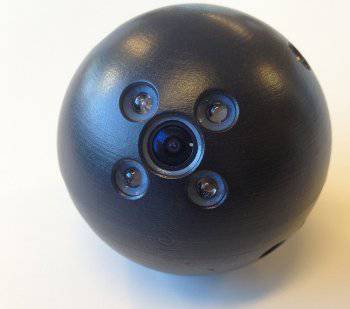 After the devastating 2010 earthquake in Haiti, rescue teams landed in Port-au-Prince in search of survivors. Francisco Aguilar, a former graduate student in the field of state. politicians struck
stories
about lifeguards who relied on expensive and sophisticated visual surveillance systems. "Only a few teams were equipped with them, and besides, they needed highly trained specialists to use them," said Aguilar. In this regard, after some time, Aguilar launched in Cambridge (pc. Mass.), A startup to develop a simpler way to study hard-to-reach places: an inexpensive probe whose dimensions would not exceed the size of a baseball ball and which can be dropped anywhere you want gearmix.ru with a link to popsci.com.
The probe, which was given the name "Bounce Imaging Explorer", has a shock-absorbing shell, it is supplied with six cameras, as well as near-infrared LEDs for illuminating cameras for dark rooms. To use Explorer, the rescuer connects it with a tablet or smartphone and throws the "ball" into the danger zone. The probe immediately begins to photograph the environment, and also takes samples for carbon monoxide, methane, and dangerously high temperatures. After that, the microprocessor inside the probe stitches the photo together, converts the data and transmits them via Wi-Fi. On the connected device, a few seconds after the throw, a circular panorama and complete environmental data appears.
Aguilar very quickly found other opportunities to use the new probe outside of natural disaster zones - for example, in hostilities, in hostage situations, as well as in burning buildings. After that, he began to build work based on feedback from potential buyers. Startup Aguilar in the first months of 18 went through the development of many prototypes. As new requirements arrived, the design improved. After several policemen stated that they would like to hear what was happening in the room, a digital microphone was added to the device.
Firemen, police, inspectors of nuclear power stations and soldiers suggested testing the device, the cost of which, according to Aguilar's idea, should not be 500-1000 dollars. "We want to make it as cheap as possible. This will allow it to be used everywhere, "says Aguilar.