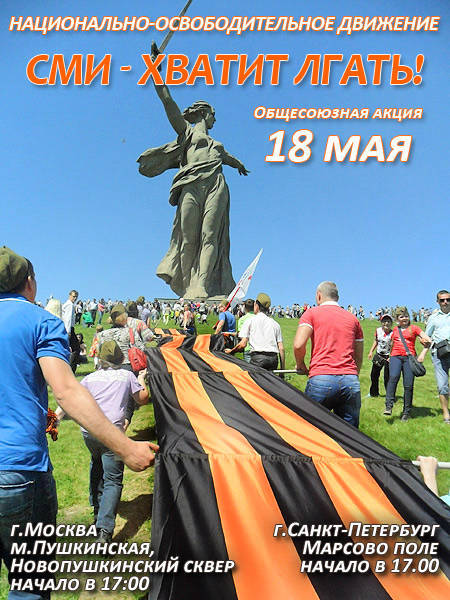 Dear colleagues!
All-Union action "Media-Enough to Lie!" May 18 will be held in more 50 regions of Russia, Ukraine, Serbia. Tens of thousands of people in the vast expanses, will come out this day fighting for the holy cause, for the freedom and independence of their homeland!
Throughout our
stories
we had to fight for our freedom, for our right to live the way we want, for the right to build our Russian civilization!
But the enemy could not do it by force.
weapons
, each time he was defeated by our holy warriors. Our ancestors proved to the whole world "He who comes to us with a sword will come by the sword and perish!"
Therefore, for the enslavement of our fatherland, another insidious plan was conceived and executed.
With the help of the betrayal of the highest leadership of the USSR, our country was destroyed and cut into 15 parts.
But he also succeeded because the media were able to incite hatred and indifference towards their country to our citizens.
After the defeat of 1991 of the year, the media controlled by the US through the rating continues to fool and deceive our people with a new force. Consciously distorting the truth and doing everything so that only the topic of restoring sovereignty does not go to the masses.
Therefore, we are talking to you, "media is enough to lie!"
Therefore, we take to the streets to bring the truth to our fellow citizens.
We have no time to wait!
We call on all citizens of Russia to join our struggle, and go out with us on this day on the streets of our cities!