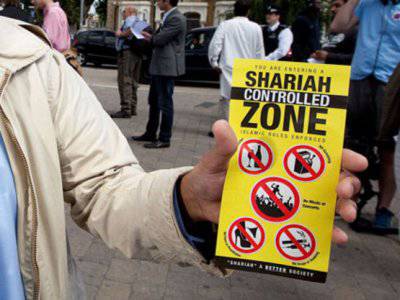 Recently, two large-scale sociological surveys were conducted: "Religionsmonitor 2013" (Bertelsmann Foundation; 13 thousands of respondents were interviewed in 14 countries) and "Muslims of the world: unity and differences" ("Pew Research Center"; in 39 countries around the world 38 thousands of interviews were conducted in more than 80 languages). The results of the first survey showed a clear fear of the inhabitants of Western countries against Islam; The results of the second showed that a significant part of Muslims want to introduce Sharia law as official legislation in their countries of residence.
Every second German sees a threat in Islam and believes that this religion is alien to Germany, writes Dmitry Vachedin (
Deutsche Welle
). According to the results
research conducted by the Bertelsmann Foundation
(Bertelsmann Stiftung), 51% of Germans see Islam as a threat. Moreover, this opinion is shared by 18% of Muslims living in the country. In eastern Germany, Islam is more skeptical than in western.
The opinion that Islam is fraught with danger, 76% of the Israelis surveyed, 60% of Spaniards, exactly half of Swiss and 42% of Americans shared with the Germans.
Sociologists noted that the rejection of Islam is today a phenomenon of the Western world. The incompatibility of the Islamic worldview and Western values ​​was stated in the survey 50% of the population of Switzerland, reports Anna Kovaleva
"Sedmitsa.ru"
.
30% Indians and 16% South Koreans are also against neighborhood with Islam. In Europe, the highest percentage of rejection of Islam is recorded in Spain and Switzerland, the smallest - in the UK (not so little - 45% of respondents).
But 32% of respondents in Turkey and 27% of Israelis saw a threat in the spread of Christianity in the territories of their countries.
It is noted that the Bertelsman Foundation analyzed the quality of religiosity. According to the findings of researchers, centers of high religiosity is not in Europe. 82% Turks, 74% Brazilians, 70% Indians and 67% Americans consider themselves to be "average", "pretty" or "very religious" people. Less than others, the Swedes (28%) and the Israelis (31%) are prone to heightened religiosity.
Russian service "Voice of America"
based on a report called
"Muslims of the world: unity and differences"
, spoke about the results of the sociological survey "Pew Research Center".
According to the survey, the majority of the adherents of Islam are deeply religious people, striving to ensure that the teachings of Islam form not only their own lives, but also social life and influence politics. Almost all Muslims claim that Islam is the only true religion leading a person to eternal life in paradise. A significant proportion of Muslims find it desirable to introduce Sharia law as official legislation in their countries of residence.
However, the percentage of supporters of Sharia law varies considerably. Only 8% of respondents were in favor of Sharia in Azerbaijan, but in Afghanistan there are 99% supporters of Sharia among the respondents. In the countries of the Middle East, North Africa, South and Southeast Asia, the majority also advocate for Sharia: 71% in Nigeria, 72% in Indonesia, 74% in Egypt, 84% in Pakistan, and 89% in the Palestinian Authority.
It should be noted that adherents of Islam understand in different ways how to apply Sharia in practice. The majority speak out against cruel punishments: cutting off the hands of thieves or executing those who convert from Islam to another.
In most countries, women, like men, believe that the wife must obey her husband without question. This was reported by 92% of Iraqis, the same number of Moroccans, 93% of those polled in Tunisia, 94% in Afghanistan and 96% in Malaysia.
Around the world, most Muslims speak out against suicide bombings. Meanwhile, a significant number of respondents consider violence as permissible in certain cases: this is what 26% Muslims with whom sociologists have spoken in Bangladesh, 29% in Egypt, 39% in Palestine, and so think.
Russia was among the 39 countries covered by the Pew Research Center.
Boris Falikov (
Gazeta.ru
) indicates that the "Drink" study has mainly affected those states where the followers of Islam constitute the majority of the population. In Russia, where they are a minority, the sample was adjusted to take into account the compact residence of Muslims: in the Volga region, Siberia and the North Caucasus.
It turned out that 42% of respondents wanted the official introduction of Sharia in Russia. For comparison: in the former Soviet republics such a turn of affairs would be arranged by a noticeably smaller number of Muslims: in Kyrgyzstan - 35%, in Tajikistan - 27%, and in Kazakhstan - 10%.
Of the Russian Muslims who dream of introducing sharia, 22% believes that it should be extended to people of a different faith. For comparison: in Egypt such willing - two thirds. Does Russia want to be like Egypt, another question.
Among ardent supporters of the use of Sharia in Russia, 26% advocated beating stupid women with stones (in Pakistan and Afghanistan, the same was supported by 89% and 85%, respectively). Similar to the Russian percentage noted in Kosovo and Albania: there with unfaithful wives are similarly prepared to sort out 25% of respondents.
Democracy Russian Muslims do not welcome. Its supporters in the country serves only 35%. More than half advocate for a strong leader. Here they are surpassed by Kyrgyz neighbors who cherish the dream of a real leader (64% of Muslims surveyed). However, in the overwhelming majority of countries where the survey was conducted, Muslims unanimously advocate democracy. In Kosovo and Albania it is supported by 76% and 69%.
The idea of ​​the participation of religious leaders in politics in Russia is supported by 58% Muslims. Only Egypt and Jordan (in terms of 80%) constitute strong competition for Russia here.
A small number of sexually liberated representatives were found among the Muslims surveyed. Fornication sex justified 10% of respondents. In general, in Islamic countries this indicator tends to zero. In Tajikistan, it is zero.
The fact that the wife should always obey her husband, in Russia, insists 69%. But among Tajiks, 89% are sure of this, and in Afghanistan, 94% are Muslims.
Russian Muslims are hardly well integrated into society, writes Boris Falikov. Most of them are close friends of co-religionists (78%).
Returning to Europe, we note that the fear of total Islamization is caused not only by the threats of terrorism or the notorious incompatibility of the Islamic worldview and Western values. As Elena Petrova reminds (
"Results"
), against the background of the phobia of the inhabitants before Islam
in Europe, the construction of mosques is in full swing.
In France, they are already 2300, and in the United States over the past thirteen years, more than 1200 has been built. If everything goes on at such a pace, the columnist writes, then Christians in Europe will have to be recorded as minorities.
2013 year clearly set a record for the number of mosques being built in the West.
"Vesti"
They write that in Ireland today one of the largest Muslim temples is being built - for 64 million euros. Megame-cheek will soon be built in Belgian Liege: with a library, café, shops. Giant cult complex worth 40 million euros is about to replenish Munich. Minarets in Luxembourg, Switzerland and Spain grow like mushrooms after rain. And ahead of the rest of the world - the Greek government is bankrupt: it is going to spend a million euros to build the first official mosque in Athens. And this is only the beginning! Resource
Islam News
, referring to the newspaper "Ethnos", recently reported that the authorities of Athens are going to build one or even two mosques in each area of ​​the city. In the capital of Greece may appear fifteen Muslim temples.
In short, Europeans are now afraid of the same thing that has been fervently preaching for several decades: multiculturalism and tolerance.
Observed and commented on Oleg Chuvakin
- especially for topwar.ru