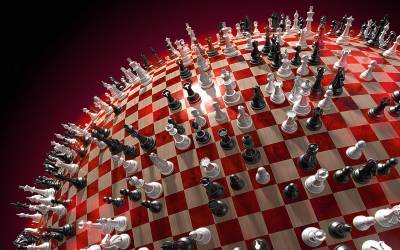 Good afternoon, colleagues! He received great pleasure from the article by Alexey Volodin about the Yanko-Aglitsky offenses that Russia has grenades of the wrong system. I was even more pleased with the majority of comments on this article, in which there is pride in Russia's independent and unshakable position on the Syrian issue, and the joy that Russia is able to force the world giants of "democracy" to listen to its opinion. This is the most valuable thing! It is pleasant after the troublesome day of production to see that you are surrounded by quite sensible and sober-minded people who are able to rejoice over our Russian successes, and not just lament, rant about the ruin and hope for the best. "... House, beautiful wife ...! What else is needed for a happy old age ...? "
And now I would like to estimate a little, with what and how seriously Russia can respond to the avalanche of recent accusations, questions, demands, warnings and, ultimately, persuasions and requests addressed to themselves from the authorities of the aforementioned world politics giants. And not ambushed ambassadors and consuls, but individuals from the first echelon of power!
From Alexey's article, it is perfectly clear that in addition to the countries of all kinds of Maghrebs and Mashriks who washed away with tears and blood, the evil and misfortunes brought to the land of countries subjected to "Western-style democratization" are already visible to everyone from far away. To do this, you don't need to arm yourself with binoculars of various sizes - blood and controlled chaos - the calling card of world democratizers today.
In this regard, the growing rejection in many countries of those ideas and the values ​​that the West is trying to land on someone else's garden. Due to the coincidence of many circumstances, now Russia has fully recovered from the democratic pogroms of the 90s, and lives, quite successfully developing under the watchful eye of the President. And it is this President that created the economic base, which now allows us to oppose on equal terms and not accept something that the citizens of our country cannot enjoy, namely slave obedience.
Weapon
In recent years, the Russian Armed Forces have received the latest weapon systems, and on the approach even more advanced and, as Rogozin said, operating on new physical principles. C-400, about which skeptics had recently spoken about as unrealizable fiction, is already a familiar (!) Reality. Now, many are already waiting for the C-500 with the already familiar (!) Confidence. And this complex will be! PAK-FA continues to pass confidently
tests and numerous tests. Financial injections went to both MIG and YAK, the absence of which had recently been grieved by some knowledgeable members of the forum and who spoke of these bureaus as being completely buried. About the revenues of helicopters and ships every day is dazzling, as a specialized media hangout, and just
news
resources. As for the seemingly forgotten and lost forever developments of the still "allied", it turns out that not everything is under the knife and much miraculously begins to return. I mean developments in laser and hypersonic weapons and the revival on the new technological base of the BZHRD, and the resuscitation of titanium submarines. And about the Arctic as a future controversial plot, we do not forget and do not ignore. So here - everything looks pretty good.
Geopolitical military leverage
Undoubtedly, in the foreground, this is Syria and, indirectly, the Middle East in general. Through the aid of Syria, Russia successfully opposes its attempts to completely isolate it from the NATO countries. And shaking the air with shouts "Russia merges Syria!" And "Russia betrays Syria!", As some people like to do - this is their sweet delusion. It is interesting to compare offhand two facts. In one of the media on military topics, it was stated that the Tochka-U missile tactical complexes are to be replaced in the near future by the Iskanders upgraded with advanced-range missiles. It would be ridiculous today to think that these "Points" are stupid, in the best traditions of 90's, in front of striped eyes, would be let under the knife-cutter. And then we observe missile launches of the same complexes in Syria according to militant clusters. And then we read the info about the promenades of our BDK back and forth, accompanied by escort ships, right up to the flagship - the Peter the Great TRK, lovingly called by many in the Internet fraternity - Petrusha. And then suddenly comes the information that C-300, the declared supplies of which to Syria by Russia have made so much noise and hysteria in the circle of "friends of Syria", it turns out, are already in Syria and are undergoing "pre-launch" training. This is reported not by the pro-Russian edition, but by the quite decent Arab newspaper Al-Quds Al-Arabi, published in London.
Syria - Syria (everything is clear - Assad is a friend and ally, whom no one is going to take, no matter how long it dreamed of in the offices of Western strategists), but there is also Venezuela, which with the departure of Chavez is not in a hurry to embrace the USA, but keeps on for further MTC with Russia. This is a needle in the States' bochin, which can't be given at all. And, I hope, our leadership will only sharpen this needle all the time.
Gradually, Russia comes to a material opportunity to reanimate or create its bases on the territory of other countries. Now there are active searches for compromises on Cam Ranh in Vietnam, there is a breaking of the bloated appetites of the Tajik ruler, who is trying to bargain for more preferences for a dudu about providing a place for the Russian military base in sovereign Tajikistan.
Technological levers
They are not so many, but they are. Those who think that the States and the rest of their "friends" need nothing from Russia, except hydrocarbons, are very mistaken. During the years of the growing of Russian production structures in the world economic machine, the already fairly stable dependence of Western manufacturers on components produced in Russia has been created. About this, of course, they do not like and do not want to talk. First, how to step over our own statements about the backwardness of Russia in everything. Secondly (and there are quite a lot of materials about this in the media), those from Western structures who already have a developed business in Russia are trying in every way to prevent competition for themselves. Yes, they don't care that they hinder their fellow countrymen or "like-minded people"! The main thing - an attempt to grab from the Russian pie more yourself, loved ones. And if we take into account the narrower and more specific areas, then there are not vague phrases, but concrete facts. These are products from Russian titanium for the American aircraft industry. This is the supply of rocket engines, which by no means can not be surpassed by American developers and manufacturers. This is the production of Uranus, the limitation of its supplies by Russia to the USA and its acute shortage in the states themselves. Previously, they almost nakhalyavu, pulled out of Russia and laughing told that the Russian nuclear industry told to live long. And now the Russian nuclear industry has its order book before 2030. And do not say that an ordinary Russian will not have anything from this! It's just that everyone is so used to having a lot while living in the country that he perceives this as a given given from above, necessarily, by the very fact of birth. This is helium, the production of which in Russia is on the rise and has deprived the Americans of snatching its significant volumes free then only by providing containers for its transportation. Yes very many. Up to the individual components in high-tech areas.
Purely economic leverage
Without stressing Russia's many opportunities to influence relations with Western countries (and first of all with the States), ranging from regulating the import of chicken legs or chilled meat into Russia (Onishchenko is the strongest Russian regulator - he does not eat his bread for nothing!) Or fresh vegetables from Europe (remember, howling rose because of the banned Onishchenko to import European cucumbers into Russia! Laughter!) it's enough to chop our hydrocarbon club! Here all these advanced economies will not be well. And these numerous round dances around attempts to avoid total dependence on Russian gas and oil ultimately boil down to speculative attempts to push each other the same Russian gas, calling it transfer (As it happens with Ukraine) and at the same time to weld or start slowly stutter about the device branch from the "Nord Stream" in his side (as it happens with England).
Ideological levers
Well, and finally about the weapons that we could not create in any way - an ideological club. Yes, it is still not quite perfect, but we already have something to wave and how to smash some skull. It is enough to compare the student's attempts to defend his image among the 080808 information bacchanal unleashed in Europe and in the World with the aim of discrediting and blaming Russia for all sins and Russia's confident steps in the political arena. You can recall the veto on numerous anti-Syrian UN resolutions, and they brought their effect! If this were not the case, as many are trying to say, then in Syria we would have had Libya-2 today, we can recall Churkin's response to the Qatari ambassador on the sidelines of the UN, we can recall the campaign of Russian children's human rights organizations led by Astakhov, who managed to stop the whole western galezh about violation of the rights of the child in Russia, and one can recall the destructive response of the Russian authorities and diplomacy to the notorious "Magnitsky Act". Do any of you, colleagues, hear anything now about this act and this Magnitsky? Not? And don't hear, because after American high-ranking businessmen (And who only allows them to combine lawmaking with business ?!) were barred from entering Russia, they immediately shut up and, I assure you, they are conducting behind-the-scenes discussions on obtaining permits. And to take an example with Putin's refusal to transfer Russian children to French same-sex (why be modest - pederastic) families! You would know, colleagues, how Poland reacted to this news! I was amazed at the enthusiasm with which the Poles spoke about Putin! Many just dream that they have the same President in Poland! And the fact that Russia is now able to protect its interests in a variety of vitally and economically important issues can be compared with three facts: 1. The crisis in Cyprus. 2. The information that the Cypriots allowed Russian state structures to quietly withdraw their finances from the blow. 3. Russia's relief to Cyprus in the matter of repaying a loan received by Cyprus from Russia. And this happened precisely after the Russian money was securely covered. And before that, Cypriot financiers and politicians drove to Russia many times and to no avail with entreaties.
So, summing up the simple result, we can see that we, i.e. - Russia and Putin, as our President, will always find something to respond to Western "grandees" from politics (for example, the current roundabout of prime ministers from there). He can respond very worthily to any challenge and can rightly say (I do not remember where these words come from) - "Do you want songs? I have them! "And every spiteful person will receive his" song "in response to his next dirty attack. I apologize for unadjusted phrases, for errors and other rough edges. I came from work, looked at the branch and decided to quickly, on hot, share with you.
Sincerely, Esaul