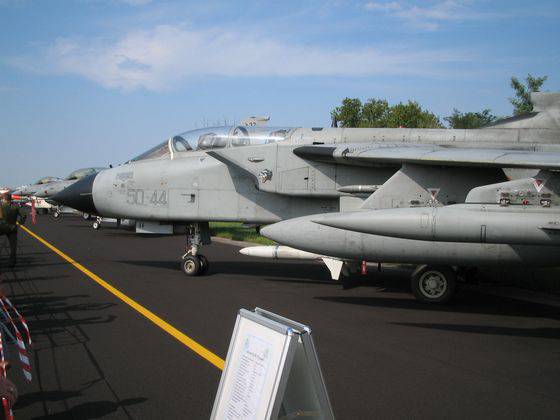 Alenia Aermakki, together with partners in the Panavia consortium (BAe Systems and Cassidian), handed over the first reconnaissance aircraft to the Italian Air Force and the EW Tornado ECR that was upgraded under the RET 8 program.
Currently, Alenia Aermacchi is working on upgrading the Tornado ECR's 15 aircraft, the company's press service said.
The Tornado ECR MLU is a modernized version of an aircraft in service with the Italian Air Force. Its main task is to detect and suppress the radiating elements of the enemy's air defense system with anti-radar missiles.
The modernization provides for the integration of a number of subsystems, the expansion of combat capabilities, the modification of avionics and software. Thus, the Tornado ECR MLU aircraft is equipped with an integrated inertial / GPS navigation system with a multi-mode receiver (MMR) to provide a "blind" instrument landing.
The new communication and identification system complies with the latest standards for ensuring the security of communication, as well as receiving / transmitting information through a multifunctional data distribution system (MIDS) integrated with the TACAN radio navigation system.
The cockpit of the pilot and navigator are equipped with new multi-functional displays with an improved interface "man-machine", reducing the load on the crew; the navigator's cabin is equipped with new TVTAB LCD color displays, which have replaced monochrome; Internal and external lighting systems are compatible with night vision goggles.
The aircraft's electronic intelligence capabilities have also been improved, including the detection and identification of threats. The software provides the integration of new sensors, components of avionics and weapons, including the new version of the AGM-88E AARGM (Advanced Anti-Radiation Guided Missile) anti-radar missile and high-precision JDAM guided bombs.
The Tornado aircraft was designed and manufactured in 1960-1970. by the consortium Panavia Aircraft, consisting of British British Aerospace (now BA Systems), Italian Aeritalia (now Alenia Aeronautica) and German MBB (Cassidian). About 1000 aircraft versions of the IDS, ECR and air defense interceptor were produced for the participating countries of the program and the Air Force of Saudi Arabia.
The mid-term MLU (Mid-Life Upgrade) mid-term upgrade program of the Tornado Air Force of the Italian Air Force is divided into three phases: "initial upgrade" (RET 6), "main MLU" (RET 7) and "complete MLU" (RET 8 ).
RET 8 is the final stage of the project to modernize the Italian aircraft. Its implementation began in 2008. The RET 8 phase provides for upgrading the Tornado IDS aircraft 10, which previously underwent RET 7, as well as 15 additional reconnaissance aircraft and EW Tornado ECR.