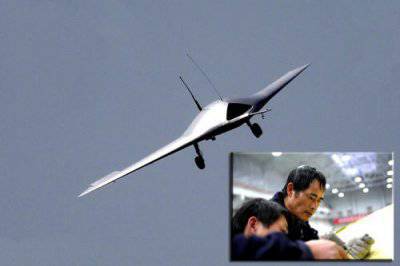 China's air force intensified percussion drone made by stealth technology. About it reports the Global Times. It is reported that in this way China became the fourth country in the world to master this method.
The Chinese-made stealth drone was named Sword (from the English "sword"). The device is already ready to perform its first flight. Previously, such devices created the United States (X-47В, 2011), France (nEUROn, 2012) and the United Kingdom (Thor, according to rumors, is preparing to perform its first flight in Australia). The development of shock stealth drones also lead India, Iran, Israel, Italy, Sweden and Russia.
Sword is designed according to the "flying wing" scheme with a three-post chassis; the device is equipped with one jet engine. This scheme is best suited stealth technology. It is believed that the main difficulty in creating such UAVs lies in the production of a combat load management system. Such a device requires an advanced digital control system with powerful software.
The model of the Chinese stealth was first presented at the exhibition in Zhuhai five years ago.