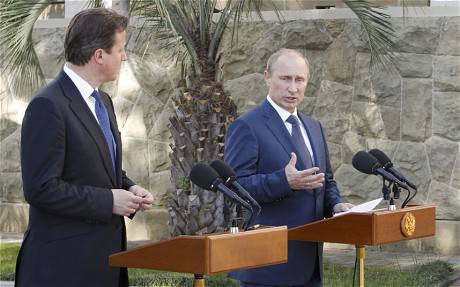 In the course of several days in May, two Western politicians visited Russia one after another: first, the head of the American State Department, John Kerry, and then British Prime Minister David Cameron. It is noteworthy that both of these visits took place after the start of the discussion in the West about the fact that it is impossible to pull with the "resolution of the Syrian issue", because Bashar Asad allegedly switched to using chemical
weapons
.
The combination of phrases "Middle Eastern politician", "lack of democracy", "use of chemical weapons" evokes a stable feeling of deja vu. Well, remember, the UN, Colin Powell and his famous "anthrax" test tube, which (the ulcer) was allegedly intended to be used by Iraqi leader Saddam Hussein in his time against "peace in the world". In this case, no one is shocked by any test tube in front of an impressionable western public, but the déjà vu nonetheless is intensifying. The reason is that the words of people with a more or less sober view of the surrounding reality about the non-confirmation of the fact of the use of chemical weapons in Syria, and about the author of this hypothetical use, in the United States and Great Britain cause a certain reaction.
In particular, the very idea that if chemical weapons were used in Syria, it could well have been used by anti-government forces, according to the tradition established in the "democratic world", it does not think to discuss. Although, one must admit the presence of isolated cases of discussion takes place. Specific cases, but still ... For example, a representative of the UN Commission, Carl Del Ponte, said that she has evidence that the opposition's weapons in Syria were used by the opposition for provocations against the troops controlled by Bashar Asad. Only here Mrs. del Ponte, frankly, very few people in the West listen. Like, what are you doing, Karlita, you are preventing us (the main democratizers) from promoting their idea of ​​the bloodthirstiness of Assad and his supporters. Apparently, after her revelations about her work at the International Tribunal for the Former Yugoslavia, the West itself treats Carla del Ponte with a certain moral tension. Apparently, she thinks: in vain we have appointed her to the UN commission — the retired prosecutor can, as they say, merge the info ... And she merges. Is it really age ...
It was against this background that the American and British delegations decided to "process" the Russian president. To assume that the visits of Kerry and Cameron were independent of each other, and even in the complete absence of advance contacts on this issue between Washington and London, is naive. Obviously, visits are two elements of a whole. And the whole in this case is the decision to convince Russia that it's time to complete with Assad and move on to the formation of new Syrian authorities. In this regard, an interesting look is an excerpt from an article posted in the Washington Post, where the authors state the following:
Russia and the United States (during Kerry's visit to Moscow), who are supporting the opposing sides in the protracted civil war, said they were going to work together to create a new transitional government in Syria.
As they say, information that is similar to a sensation, isn't it ... Here are just other American publications that covered John Kerry's visit to the Russian capital, and they don't provide any material that confirms the agreement to create a so-called transitional government in Syria. Therefore, we can either say that the Washington Post journalists know about the outcome of the US Secretary of State's visit to Moscow more than everyone else, or they simply decided to give their version of the outcome of Kerry's conversation with Lavrov in the Washington Post.
In general, the Western press, covering the visit of Kerry to Russia, did not hesitate to publish information, which, to put it mildly, did not quite correspond to reality. In particular, several British publications stated to their readers: the head of the Russian Foreign Ministry said that Russia would not supply C-300 to Syria. In order to eliminate any ambiguity in this matter, Sergey Lavrov had to touch upon this topic separately during a trilateral meeting (Russia-Germany-Poland) in Warsaw. In particular, Lavrov, in response to a question from a journalist about the possible sale of C-300 systems to Damascus, said:
Russia has long been sold and signed contracts. And completes deliveries on the signed contracts of equipment, which is anti-aircraft systems. It is not prohibited by any international regulations. This is a defensive weapon. It is intended so that in this case Syria, as a state importer, will be able to protect itself from air strikes. That, as we know, is not quite a fantastic scenario.
These words for all those who were still going to persuade Russia not to cooperate with Bashar Assad in terms of selling effective air defense systems to Syria became a kind of icy water. After all, all the major world democratizers believed that Kerry and Cameron would talk with Putin about the need to resolve the Syrian issue, and the Russian president would take and abandon plans to support the current Syrian authorities with all the consequences - good for a no-fly zone over Syria, good for massive attacks on the positions of government troops and further - on the thumb. Well, as once happened with Livia ...
But it turned out this time differently. Not in the example otherwise. Kerry laid wreaths in Moscow, Cameron in Sochi inspected Olympic venues ... The situation with the flightless zone in Syria clearly descended from the agenda, and therefore, we can assume that information about some agreements on the creation of a "transitional Syrian government" is hardly true.
And after Lavrov said that everything Russia needed for Syria had long been sold to Syria, Western "partners" began sputtering about the fact that Moscow was ready to support exclusively "bloody regimes" and not to support regimes of "all-conquering democracy".
So what happens: Cameron and Kerry really wanted to "protect" Putin from the decision to sell C-300 complexes to Syria during their visits to Moscow? But so, judging by the words of Lavrov, the train has already left, and it means that it will be difficult with the flight-free zone over Syria. For the same West, at least. After all, the C-300 system is such that foreign military pilots who may receive an order to conduct their "democratic" bombers on Syrian cities will obviously have to answer for themselves the question of how much they are still imbued with world "democracy" in order to go easy. production for the Russian air defense systems. Obviously, not all have penetrated, just as not everyone is going to penetrate it at all.
So far, only Israeli planes are trying to test the Syrian air defense system for durability, but it is true that they are not solving frank flights over the territory of Syria. Apparently, the expression "es-300" and in Hebrew sounds like "well, nafig" ...