According to a Peruvian resource www.defensa.com from 10 May 2013, the T-2013С tank arrived in Peru to participate in the SITDEF-90 exhibition. At the end of the exhibition it is planned to expand its show to the leadership of the armed forces of Peru.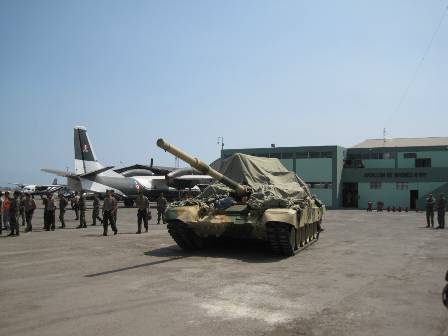 At the same time, in the media, some competing firms are trying to rekindle an unhealthy excitement around, in principle, an ordinary event. Hysteria is escalating over a certain "mega-tender" in which the Russian T-90C tank, the American M1A1 Abrams, the German Leopard-2A4 (offered by Spain) and the Leopard-2E6 (offered by the Netherlands), Ukrainian T-64E and T- allegedly take part 84 "Hold". Regarding the latter, we already wrote in the message "Armored Lies of Ukraine-2". As for the "Abrams" and "Leopards" - these are good
Tanks
worthy of study and attention, but nothing more. The fact is that owning these war machines is too expensive a pleasure.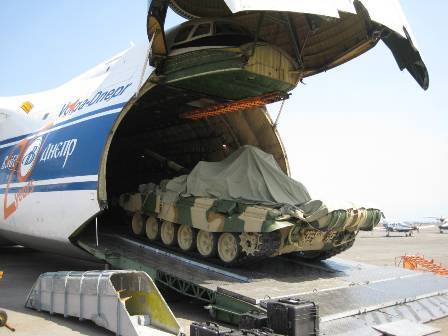 It is not feasible for the economy of Peru. At the same time, as regards especially used Spanish and Dutch Leopards, the problem of supplying them with spare parts arises in full growth. But the most important thing is that Germany did not give and will not give its permission to re-export these tanks to Peru. So fans of sensations, please calm down. The delivery of T-90C to Peru is a practically resolved issue. And the whole bestial howl and whine, about the rest of the tanks indicated above, are nothing more than partisan "wishes" of interested competing companies.
In retrospect, it is worth remembering that exactly the same way 1,5-2 a year ago, Ukrainian propagandists tried to influence the decision on the purchase of tanks by Azerbaijan. To this end, information was also taken about the alleged "interest" of the Azerbaijani military to the Oplot tank through the national press. However, it did not roll out and the contract for 200 T-90С tanks was received by Russia. Likewise, Ukraine and other European "rogue women" will not even have a ride in Peru.