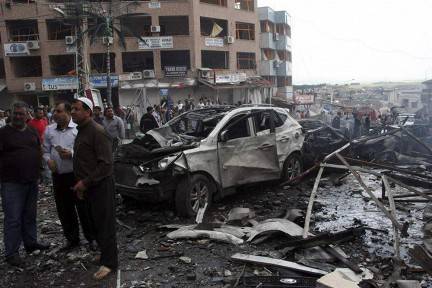 On Saturday, 11 May, in the Turkish city of Reyhanlı, near the border with Syria, three explosions occurred. From the first two, 42 people died, more than 140 suffered. There are still people under the rubble of buildings, and, accordingly, the number of victims may increase.
In this case, five Syrians were detained, reports the Russia 24 channel. It is worth noting that the blame for what happened with considerable probability can be placed on Syria. Confidence in this expressed in his Twitter, the head of the State Duma Committee on International Affairs Alexei Pushkov. In turn, NATO Secretary General Anders Fogh Rasmussen condemned the attacks, and also expressed condolences to the families of the victims and sympathy.
"The United States strongly condemns the brutal attack. The United States supports the people and the government of Turkey in search of criminals and bringing them to justice," said Francis Ricardone, the United States Ambassador to Ankara.
According to the Deputy Prime Minister of Turkey, Bulent Arink, the Syrian army and special services are the usual suspects in such situations. Turkish Prime Minister Tayyip Erdogan has already said that, in his opinion, the organizers of the attacks can be either the Kurds or the Syrians. He urged fellow citizens not to succumb to provocations and to be vigilant.