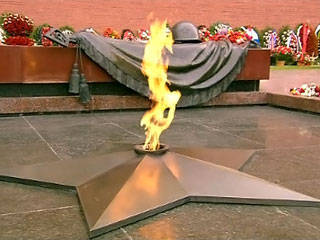 Over the past few days, it was during the preparation and holding of the celebrations to celebrate Victory Day that such a shaft of articles, opinions and provocations spilled out at various media outlets, which absolutely strengthens the confidence that Russia and its people will not be left alone for a long, long time ... Until that very day, when the citizens of the country will not get used to it as a given, to what is good and good (and most importantly - right tomorrow!) They will heal as soon as they realize that the country's leadership is leading to collapse and destruction, and only champions liberal th morals know how things change for the better! And after all, we must pay tribute, they know how to put pressure on patients with corns!
This is me to how lively, emotionally and TRUSTING forum members "IN" reacted to the article about how 9 in May the country's television "mean and without announcement" "slandered", "discredited" and "offended".
What can be said about this ... I will say the words of the author of the above-mentioned article "Disgusting. Disgusting. Ugly. The author, especially without bothering, in the best traditions of the new liberal political morality and tactics, pulled some words out of context, distorted a couple of facts, tattered statistics (a card sharper would envy!) And presented everything as a deliberate and malicious insult to the best feelings of a person. How great he managed to say about parity on the prisoners in Stalin times and in the present! What are some of the "planters" of the present? It seems that the author does not allow the pain to live in peace for the fate of such prisoners of conscience, like Mr. Khodorkovsky and Mr. Berezovsky (now deceased, but discussed with particular warmth on the Internet-resource being taken care of by the author as an indefatigable romantic business and just looking for personality , and all his covetousness - as harmless pranks of youth). Well, I think - to whom, if not Yury Zinovievich, to complain about the heavy share, the unfortunate, persecuted Boris Abramovich and others tortured ...
In principle, these Sherlockholm-deductive methods of deeply buried "truth" could not have been noticed if it were not for one phrase at the very beginning of the article "I am ashamed of those who lead Russia." And this would not be surprising - well, I'm ashamed of Karnavsky - his right and preferences, if not hurried and, I dare say, a somewhat stereotyped reaction of many members of the forum. After all, many are already in the habit of believing that "what is being said officially in a box is a priori a lie. But people say! .. "Yes, people often say that he brings forty on his tail and, as you can be sure of the internet, these are the main things to announce loudly the forest with your caw, and then fly to the next plot.
It surprises me why forum users Gleb and Alexander (Alexdefender), being one of the very critically relevant assessments of the activities of the current Russian leadership, were completely minded just because my fellow countryman, for whom a liberal ideology feeds his world view, threw a provocative, but Essentially, a destructive slogan! Maybe it's time to get rid of the superficial perception of the information provided, colleagues on this wave of the "world" "Atu!"
The author is very Jesuit-sophisticated, in the best traditions of Western agitprop, decided to spoil the blessed air of triumph, making it clear, "Guys, don't be too arrogant!", And he did it well.
Why dear members of the forum did not mention the competent work of television throughout the country and especially Moscow? Indeed, thanks to them, many veterans were able to join the words of those of them who were in Red Square, saw everything with their own eyes and were able to say - "We saw the military power of Russia"? Indeed, thanks to their work, one of the members of the forum spoke about the tears that had come out in front of our eyes when our Russian guys marched to the sound of a march!
I ask you, dear friends, not to forget that a relentless war is being waged against Russian statehood, and we are all on its leading edge. Although it sounds a bit pretentious, it is so.
And we should always be able to see those numerous attempts to humiliate people's pride in their country and instill in them a sense of hopelessness and faith in outside help, at the wave of a wizard because of some Ocean. And everything is done not so primitive and clumsy as a couple of years ago, but this way - by touching on particularly resonant themes and concepts (as it sounded loudly in the article, in the spirit: - "we are not slaves!" And how provocatively concluded that, "means there was no Victory?"), then putting everything in the right (most often anti-Russian) channel. So, the conviction that we live in a plagued country is hammered into our heads, so, a sense of patriotism and pride in our land, our country, is being slaughtered.
And such publications will appear with enviable regularity and with an ever-increasing ideological skill.
Be attentive colleagues. I am well aware that my words can cause an ambiguous reaction among members of the forum, but this is how I assess the content of the article under discussion.
In conclusion, I will return once again to the words from the article that prompted me to reply with this article "I am ashamed of those who lead Russia".
I do this in order to make it clear that having written all this, I want to warn you that you should not be lazy to separate the wheat from the chaff and be very careful not to fall under the magic of loud words that they so love (often - indiscriminately and unreasonably) to scatter those whose concern for the welfare of the country resembles the plot of a caricature - a man sits, goes to his hat. Passerby: "Man, are you shitting yourself in your hat?" - "Yes, you know ..., I am not used to anything ..."