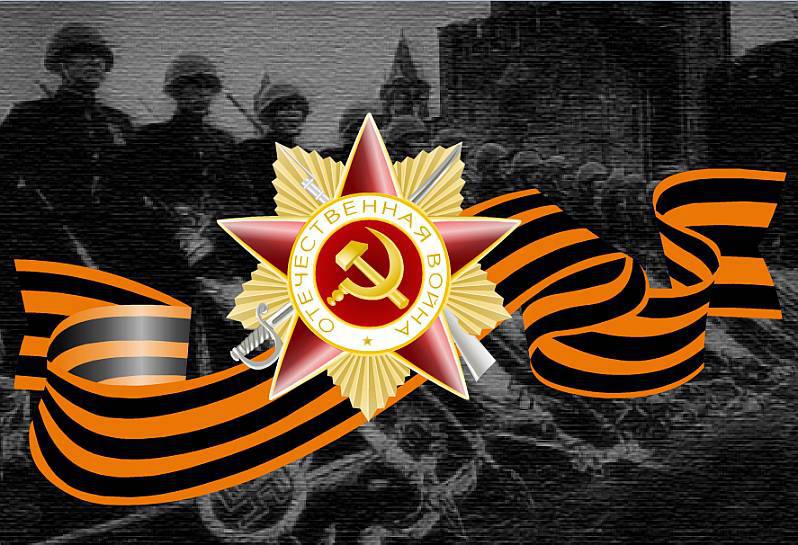 ... It seems it was in 1995. The situation in the country was not simple: on the one hand, it was necessary to celebrate the 50 anniversary of the Victory, and on the other hand, unlike the current lack of principle, Russia at that time had a clear state ideology: it was what was anti-state. That is, Russia as a nation was supposed to deny itself in every way.
Then political technology power twisted, making a double flip. On the one hand - a holiday spent. On the other hand, he neutralized him as best she could, knocking out her teeth for Victory Day and rolling her limbs into a plaster.
That is, the canceled parade in 1991 was returned - but without military equipment. And since simply armed Russians are also aggressive, a giant poster was hung over Red Square in which the Russian soldier clings to his American ally.
And most importantly - it was then that Victory Day acquired at the official level a forced sentimental-farewell tone. What was expressed in the posters, banners and televistavkakh with the text "With the holiday, dear veterans!" And in the hypertrophied Leshchenko from each iron, reminded that the holiday - "with gray hair at the temples."
All this, apparently, should have signaled by some supervisory authority that Victory Day is temporary. Here the last veteran will die - and everything will calm down.
And such quiet coffins, into which our conscious perception of 9 is trying to pound May, our country's conscious enemies and irresponsible fools from the enemy's supply are much more unacceptable to us than the usual bagpipes of freaks-losers about "corpses thrown", about "detachments" , about "Stalin created Hitler."
One of these coffins, inherited from the 90-x - is expressed in a compassionate tone, "understand, it's still a holiday of veterans."
This mantra is reproduced in various forms. For example, angry: "Enough for us to pour cement with salt on our heads! Buy housing for veterans! " Or so: "Well, this is a great reason to drank budget money. Shares with the distribution of ribbons, decorations for the holiday, all sorts of nashist efforts to somehow congratulate and litter half the town with someone ... I always say: better give these funds to veterans, this is their holiday. There are very few of them alive. " Or supposedly respectfully: "Do you feel sorry for money for a holiday for veterans, or stupidly do not understand that for THEM it is very important?"
... But in reality, everything turned out differently. Now, almost twenty years later, it can be stated with confidence: it was not possible to bury 9 May in the past. It turned out quite the opposite.
This is not only about parades that have returned to zero (although when Topol-M drives through Red Square, it is somehow difficult to interpret what is happening in the wake of sentimental memories of the former force).
Speech is about people. Nobody deliberately processed their consciousness — rather the opposite. But now the citizens of our Motherland about 9 May the following opinion: 90% believe that the holiday "Victory Day" belongs to them. Including sure 85% of young people. The opposite opinion ("this is a holiday of veterans") is mostly held by residents of megacities with no education - but among the social marginals of such idiots a small minority.
Something like this. Probably, it is precisely the unprincipled Putin years when the state abandoned ideology (anti-state, we recall) and gave the people the opportunity to choose their own thanks.
historical
self-awareness is intuitive and independent.
People - chose. There can be no doubts that the main and only national holiday of the country was 9 May - for example, those who wish can compare, for example, his and 12 of June (which, we recall, is Russia's independence day). Or his and 4 november. Or simply by looking at the riot of St. George ribbons, which the country itself, without "targeted funding", adorns itself in early May.
Why precisely Victory Day? Because every significant nation celebrates its historic feat - best expressing its essence. The American people, while still alive, will celebrate the feat, as a result of which they stopped paying taxes to the metropolis. French - a feat in which he first destroyed his own class system. And the Russian (he is Ukrainian, Belarusian, Kazakh, Armenian, etc.) people celebrate the feat, during which he saved himself with his might from slaughter and slavery and a whole bunch of other nations. And we celebrate our own power. And we will celebrate it while we are with ourselves.
And so all the other holidays of Russian victories - as it were, are drawn into Victory Day. As every Sunday is a small Easter, so each anniversary of the expulsion of the Poles or the French is a small 9 of May. At the same time - only shading large.
Because May 9 is a day of historical accomplishment that makes us a people.
... Today, Victory Day has less gray hair at the temples. We can confidently ascertain: he won death and safely passed to the rank of the eternal. What we congratulate us on, among other things.