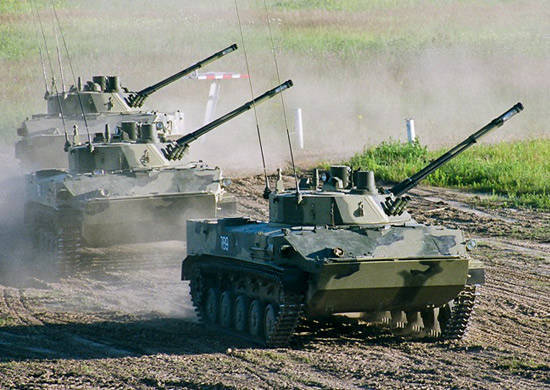 The main task of the Airborne Forces Command (Airborne Forces) as a military command body is a multi-purpose rearmament of troops in the shortest possible time (the nearest 3-5 years) terms, Commander of the Airborne Forces Colonel-General Vladimir Shamanov told reporters.
According to the Commander of the Airborne Forces, in the development of a number of armored tracked vehicles for the Airborne Forces, the ideology laid down by the legendary Vasily Margelov should be sustained - three units of airborne combat vehicles (platoon) should be transported and parachuted from one aircraft. At the same time, the characteristics of armor protection and armament of airborne combat vehicles (BMD) must meet the latest requirements.
"All these indicators are met by the new BMD-4M combat vehicle," says Vladimir Shamanov. "It's certainly not perfect, but it has tremendous potential for further improvement and modernization of both the base chassis and the weapon module," he concluded.
According to Colonel-General Vladimir Shamanov, the first 5 units of BMD-4М Airborne Forces will be received for the final state tests by the end of this year. Another 5 units BMD-4М and 10 units of the multipurpose shell armored carrier shell - in the first half of 2014.
At the same time, the Airborne Forces Command is considering the options for adopting reconnaissance, special units and airborne support units for lightly armored vehicles.
"Our Tiger family cars have proven themselves well, but for the final decision on their adoption it is necessary to carry out a full range of military tests, including checking the possibility of their landing from military transport aircraft
aviation
", Continued Colonel-General Vladimir Shamanov.
"In this regard, we have established close cooperation with the management of KamAZ. There are already good developments, and in September-October of the current year, the first samples of equipment meeting the requirements of the Airborne Forces will begin to flow to the troops, "he concluded.
The multi-purpose approach and the unified ideology in re-equipping the troops are incorporated into the state armament program and are reflected in the plans to re-equip and re-equip the airborne troops before 2020.