Airplane FOAS - a promising strike aircraft of the UK. The joint development of the aircraft involved the French company Matra and the British BAe Dynamics. Initially, at the start of 1990, the FOAS name was formulated as Future Offensive AirCraft, "shock aircraft of the future," but soon followed the development with the expansion of the field of study. The aircraft under development should replace the Harrier GR.7 and Tornado GR.4 strike aircraft. The program proposed by the UK Department of Defense is designed for 20 years. In the development program in 1998, more than 100 was invested £ million. For the new aircraft also developed new types
weapons
For example, the promising cruise missile CALCM (Conventional Air-Launched Cruise Missiles).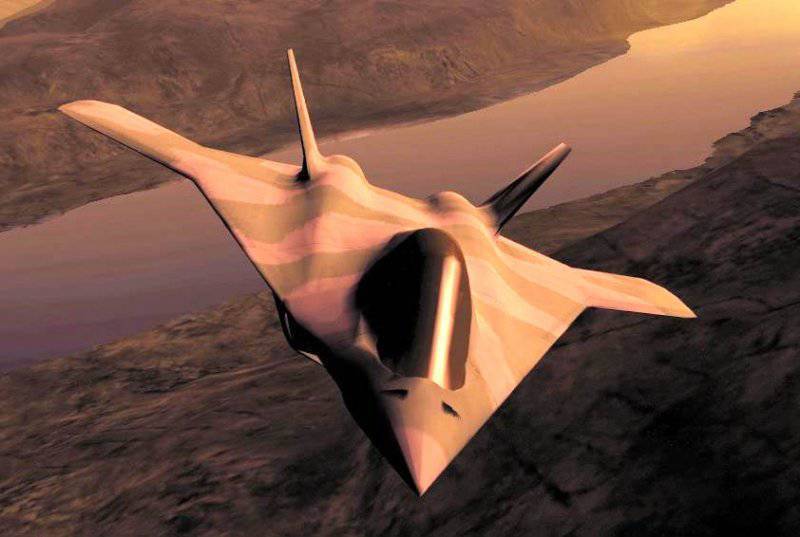 During the design of the aircraft technology was used by Dassault, as well as developments obtained in the design of Eurofighter EF-2000 Typhoon. In addition, the program can use technologies that have been tested on Replica (British stealth aircraft). The plane was supposed to make the first flight in the 2008 year. Airplanes and on-board systems developed under this program must be ready for the 2018 year, when the Tornado fighter-bombers begin to write off the resource. Within the framework of this topic, work is carried out in several directions at once:
- promising CVF aircraft carrier;
- FJCA future combat aircraft (also known as FCBA);
- unmanned combat aircraft;
- carriers of cruise missiles;
- airborne cruise missile with a non-nuclear warhead.
BAE offers a conventional fighter, air-launched cruise missiles, as well as unmanned aircraft. As a conventional fighter, JSF or EF2000 will be used, rather than a newly built aircraft. This aircraft will be entrusted with the task of destroying enemy vehicles at long ranges using low-altitude flights and low visibility. A400M aircraft was considered as a carrier of a cruise missile. In the framework of FOAS, unmanned aircraft currently used in limited quantities will be used with ordinary aircraft on an equal footing, both autonomously and remotely controlled. The main task of unmanned aerial vehicles is to increase operational flexibility, as well as reduce human losses in time for risky operations.
An integral part of the FOAS system are air-based cruise missiles. The missile which is built on the principle of "let go - forget" will be equipped with a millimeter-wave radar and an infrared system. This will allow to solve problems even despite the opposition of the enemy. As part of the program, studies are being carried out on the possibility of suspending a large number of missiles on adapted passenger, patrol and military transport aircraft on the outer or inner suspension.
It was originally planned that the FOAS system would be deployed complete with its own command and control system. However, later the UK Ministry of Defense announced its readiness to implement the phased commissioning of the offensive
aviation
system. The timing of the implementation of the FOAS system remains unchanged. The approach to the gradual implementation of FOAS may have been caused by concerns expressed by UK industry representatives about non-compliance with schedules and the inability of the Ministry of Defense to choose from the proposed FOAS options.
Based on materials:
http://www.airwar.ru
http://www.gosniias.ru
http://emigration.russie.ru