The commander of the Syrian anti-government armed group Salim Idris, in an interview with the American media, admitted that disarray and lack of subordination reigned in the ranks of the Syrian people's army.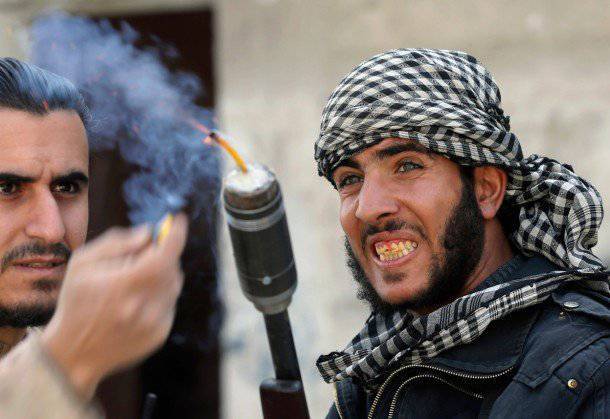 "He claims that his movement is extremely fragmented and does not have the military skills necessary to overthrow President Bashar Assad," ITAR-TASS reports, citing Philadelphia Inquirer materials.
Idris said that he is trying to create a unified structure of command and control with his own forces in all provinces of the country, but these efforts are shackled, firstly, by the fact that there are almost no professional military men among the rebels, and secondly, the lack of a material base.
"We lack ammunition and
weapons
He said. - There is not enough money for logistics, for the purchase of fuel, for supplying troops with motor vehicles. We have nothing to pay people a salary. "
The publication, meanwhile, claims that back in April, the United States announced the provision of a group led by Idris to the so-called non-lethal assistance totaling $ 123 million.
And the allies of the United States decided at the meeting in Istanbul to send through Idris and all the "lethal" assistance to the rebels.
However, according to the publication, he himself admits that he "has almost no influence on the actions of the rebels in Syria and direct control over some of the largest groups". And the rebels regard American aid as a mockery. Their commander in the city of Hish Haj Saleh said: "We need weapons. Americans just want us to die slowly. "
In fact, the United States seeks to ensure that weapons from the Syrian rebels do not reach the terrorists associated with al-Qaeda. However, according to "Maclatchi", while "practically nothing confirms" the ability of Idris to fulfill this condition. And in general, the capacity of his so-called supreme military command remains "under the colossal question," the publication indicates.
The conflict in Syria is from March 2011 year. During this time, according to the Syrian authorities, died about eight thousand men; According to the UN, the victims were more than 20 thousand.
The country's authorities claim that the encounter resistance of well-armed militants, which is supported from the outside.