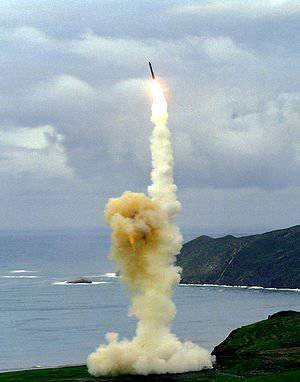 The US Air Force Command has suspended the 17 officers responsible for the state and, if necessary, the launch of intercontinental ballistic missiles, the American media reported.
The reason for such an unprecedented personnel decision was the inspection of officers of the 91 Rocket Wing deployed at the Minot Air Force Base in North Dakota, which showed the complete unwillingness of servicemen to prepare and launch mini-3 intercontinental ballistic missiles in combat conditions.
"We are actually in a critical situation," the unit commander, Lieutenant Colonel Jay Folds, said in an e-mail for internal use, the copy of which was in the possession of the Associated Press.
The letter, in particular, states that the unit reigns in an atmosphere of indifference and mutual responsibility, that at least one case of gross violation of safety rules was observed during the handling of rocket armament.
For the United States Air Force, the case of 17 officers immediately being suspended from service is unprecedented in its mass character. The last such "successful" checks in the troops were carried out in 2008 year. Then Defense Secretary Robert Gates dismissed the civilian and military leaders of the Air Force for a number of mistakes made by the military.
The commander of the 91 rocket wing, which includes 150 soldiers, Colonel Robert Vercher, admitted that the command was disappointed with the results of the test. "This is a problem and we will solve it," he said.
"We are disappointed ... To be honest, you guys should be ashamed that your activities in such an important industry have been rated so low. This is unacceptable, "said Vercher, addressing the officers of his wing.
Officially, the Air Force Command stated that the test results were "successful", as they ultimately managed to increase the unit's combat capability. At the same time, the leadership of the troops noted that the officers suspended from their duties were sent for retraining; in case of successful completion of the courses they will be able to return to work within two months.
The 91 rocket wing officers take up combat duty in special underground bunkers and are ready in pairs for 24 hours on orders from the US President to strike anywhere in the world. The ability to use the most dangerous ground-based ballistic missiles for the enemy directly depends on the coherence and organization of their actions, reports RIA "
News
».