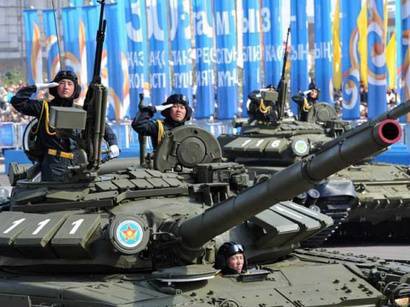 7 of thousands of military personnel, more than 400 units of military equipment, 80 aircraft and helicopters participate in the military parade. This is one of our largest teachings. At the same time, in the Caspian Sea, the ships of the Kazakh Navy will conduct live firing.
More than five thousand spectators were able to see the combat proficiency and professional skill of the soldiers and officers. The fighters have demonstrated the real use of modern
weapons
and military equipment now in service with the Kazakh army. Ground forces and troops of the Air Defense Forces made real missile launches, bombing, and demonstrated live firing from all types of weapons. Front and Army Airplanes and Helicopters
aviation
Air Force conducted an air battle in the sky. The aerobatic teams Zhetysu and Sunkar performed aerobatics. Aircraft of the European Airbus concern S-295 landed an airborne assault, and also landed on an unpaved runway, demonstrating the wide capabilities of this aircraft.
The air defense defense of the SVO at the exercise presented the anti-aircraft missile system C-125, which produced combat launches of anti-aircraft guided missiles against imitating air targets. A significant place in the military parade was occupied by the guns of the Missile Forces and artillery: tactical missile systems "Tochka-U", rocket systems of volley fire "Grad" and "Prima", howitzer MSTA-B and D-30, heavy flame-throwing systems "Solntsepek" anti-tank missile system "Sturm-S" and others.
The wheeled and tracked vehicles of the Ground Forces performed their tasks during the military parade:
Tanks
T-72B, armored personnel carriers BTR-82A, combat support vehicles for BMPT tanks. Special Forces groups fulfilled their tasks on combat vehicles "Cobra" and "Hammer". Note that the ceremonial calculations included units of the armed forces, military educational institutions, as well as internal troops of the Ministry of Internal Affairs, the KNB border service, the ministry for emergency situations, the ceremonial battalion of the Republican Guard. In total, more than 7 thousand military personnel, over 400 units of military equipment, more than 80 aircraft and helicopters took part in the military parade.