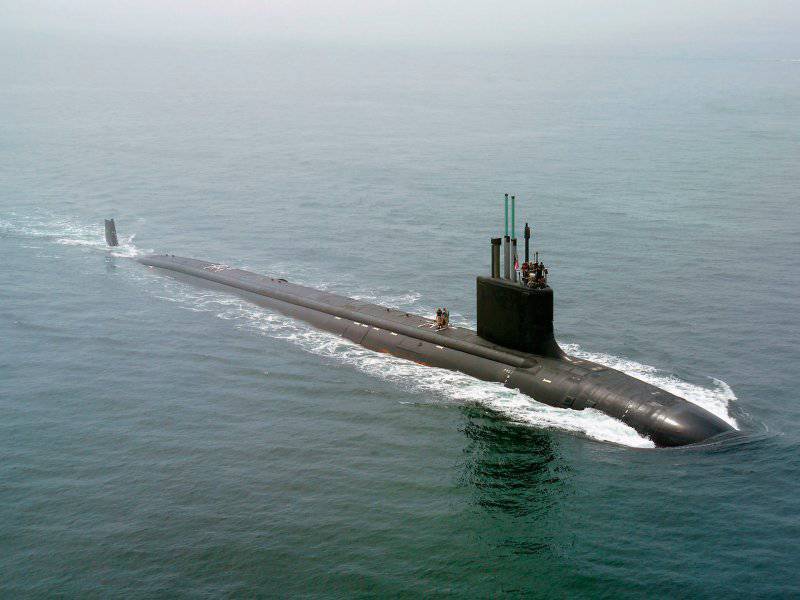 The newest nuclear submarine with missile-torpedo weapons (PLAT) SSN-783 "Minnesota" (Virginia-type 10-I PLAT) successfully completed the first sea trials. The PCB is built at the Huntington Ingalls Industries shipyard (Huntington Ingalls Industries, HII), where Minnesota (Minnesota) was built for almost 5 years, starting from its founding in February 2008.
During the tests, the plateau first performed scuba diving and developed high speeds both in surface and in submerged position. In the process of testing all the onboard systems and components of the boat were checked. Minnesota will conduct two more tests at sea, one of which will be representatives of the Inspection and Acceptance Commission for the US Navy INSURV (Board of Inspection and Survey). The transfer of the US Navy boat is expected at the end of the current month, 11-month ahead of the time specified in the contract.
The displacement of the Minnesota base plate, which is the final boat of the Virginia type in the "Block II" variant, is 7800 tons.
The construction program for the Virginia-type PCB was adopted instead of the SSN-21 program. In 1997, Newport News Shipbuilding received an order for the construction of boats of this type. The main SSN-774 "Virginia" platinum was put into operation in 2004. In October, the 2012 Platform (SSN-9 - 774) was built and 782 (SSN-9 - 783) is under construction. In total, the program is planned to build 791 PLATS. The cost of a serial ship is estimated at 30 billion dollars.
Virginia-type motherboards are designed to carry out independent operations against submarines and surface ships of the enemy, attack land targets using sea-based cruise missiles (SLCMs), provide anti-submarine defense (PLO) of warships and convoys, fight on communications with the aim of constraining transporting the enemy, covertly conducting special operations, including in shallow areas, etc.