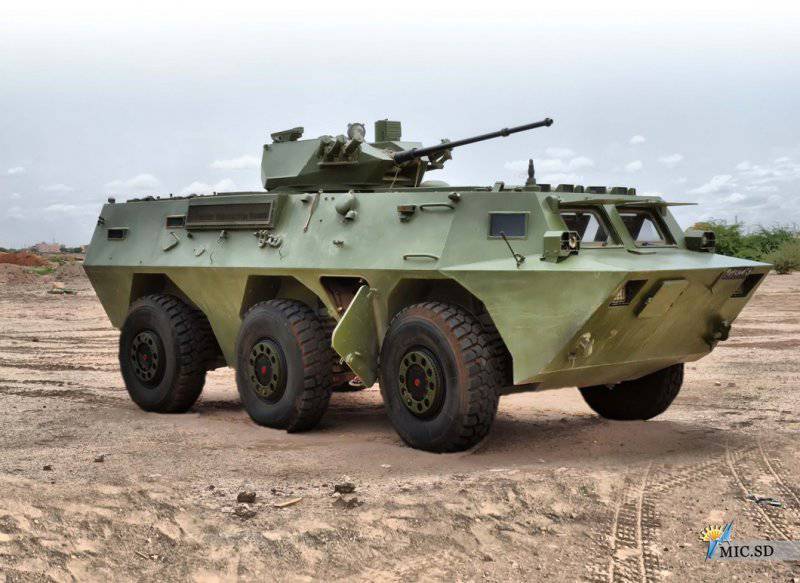 The Sudanese Military Industrial Corporation (Military Industry Corporation of Sudan - MIC-Sudan) has completed the development of the Sharif-2 wheeled infantry fighting vehicle (Shareef-2) for the Armed Forces of the country. The company also expects to receive overseas orders for its development.
According to the International Defense Review, the Sharif-2 BMP was created on the basis of the WMZ-551 armored vehicle design with the 6x6 wheel formula of the China North Industrial Corporation NORINCO (China North Industries Corporation), which is also known as Type-92.
The car's armament is a single turret with an 30-mm cannon and an 7,62-mm machine gun paired with it. The same tower was installed on a number of other Chinese tracked and wheeled platforms. Ammunition guns - 500 ammunition. The electric drive provides the ability to conduct firing in the 360 sector deg., The range of vertical shooting angles from -5 to + 75 deg.
In front of the tower there are six smoke grenade launchers (three on each side). Aft of the HJ-73D "Red Arrow" ATGM launcher of the NORINCO company is located in the aft part, which significantly increases the firepower of the armored vehicle.
An ATGM with a semi-automatic sight-line guidance system (SACLOS) with command transmission by wire is equipped with a tandem cumulative warhead. According to the developers, it is able to overcome at an angle 68 hail. 280 mm conventional armor for dynamic protection. The firing range is 3000 m. The probability of hitting is 90%.
The calculation of the "Sharif-2" consists of a 10 man (three crew members and an 7 troop man). The landing force may fire through the loopholes in the hull under armor protection.
The body of the armored car welded from armor plates provides protection from small arms fire.
weapons
12,7 caliber mm. The mass of the basic version of the machine is about 15 tons. The combat weight of the Sharif-2 with a turret is 16,02 tons, the power density is 19,97 hp / t. Cruising range (tank on 400 l) - 800 km, maximum speed on the highway - 100 km / h.
According to the developers, the car is floating and is able to overcome water barriers at a speed of 8 km / h, using a pair of feed propulsion jets.