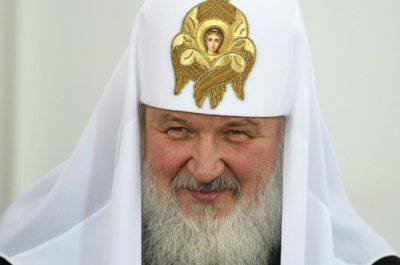 Patriarch of Moscow and All Russia Kirill called on the Russian people to mobilize for victory, as happened in the Great Patriotic War.
"If the Orthodox faith does not leave our hearts, and along with it, national self-consciousness and national pride, we will win victories, first of all those that we should win today: victories in strengthening the state, its defense capability, economic power, in deciding many social problems, "said the patriarch, addressing the participants in the St. George's youth parade, which took place on Poklonnaya Hill in Moscow on Monday, on the day of remembrance of the great martyr George the Victorious.
"All this can be done if we are mobilized to win, if we are united as a people, if no political preferences, national, cultural or even religious differences destroy the true spiritual unity of our people," said the primate.
He recalled that on the day of the Great Martyr George the Victorious, which coincided with the celebration of Easter, hostilities stopped, "revealing to the whole world the invincible strength of the spirit of our people."
"Our people won a terrible war, where the toll of sacrifices went to millions, where military goals exceeded even the most terrible imagination. Probably no one ever set out to destroy the country completely, gradually killing and wresting the whole people," said Patriarch Kirill.
He called on young people to follow the example of Alexander Nevsky, Dmitry Donskoy, George Zhukov, Alexander Matrosov, Zoya Kosmodemyanskaya - "from those who, without reasoning, sacrificed their lives in the name of the Fatherland."
The parade was attended by hundreds of representatives of the brotherhoods of Orthodox rangers, cadet corps, military schools, patriotic clubs from different regions of Russia.
Prior to this, the patriarch performed a liturgy in the St. George's Church on Poklonnaya Hill. Addressing those gathered in the church, he recalled that the Great Martyr George was not only a symbol of victory of good over evil, a symbol of Moscow, but also "a symbol of intercession for all those people who are fighting for the truth."
"In the last war, undoubtedly, our people fought for the truth and laid down millions and millions of their lives, the lives of their children in this struggle," he said.