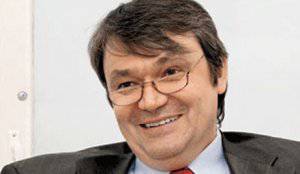 Is Chinese expansion threatening Russia and what can we expect from its eastern neighbor? Corresponding Member of the Russian Academy of Sciences, Deputy Director of the Institute of World Economy and International Relations (IMEMO) Vasily Mikheyev answers questions.
- Vasily Vasilyevich, do our people really fear the Chinese so in vain?
- People do not need to be afraid, there is no expansion. Just someone writes some stories, and some media replicate them without knowing anything.
- Maybe today they are afraid of more expansion from the Near and Middle East than from the Far. But such a giant as China, you can not hide anywhere. Just this fear is changing in some way. In late Soviet times, I remember, very much feared a real war with China. "Let's start with the big one": Is the Chinese government claiming Russian territory today?
- No, absolutely not claim. At our official level, the issue of the border has been finally resolved.
- You know, "at the official level," the question of the border was once and for us resolved with Germany.
- It can not be compared, because there is a completely different geopolitical situation. The completely different nature of political regimes in Stalin's USSR and in Hitler's Germany, on the one hand, and in modern China, on the other. So the argument is wrong.
Inside China, indeed, sometimes there are some publications with maps, on which a part of Russia is "their territory". But according to the same logic, the government of India could grasp at one time the call of one of our politicians to wash their boots in the waters of the Indian Ocean and conclude from this that Russia is claiming Indian territory. However, India did not worry.
War with China will not be for a simple reason: China has become a normal country. Therefore, there all the problems are normal, like in other countries. Including problems with natural resources, and with ecology. The Chinese know about their problems and try to solve them - sometimes successfully, sometimes not so much. But not by war.
- As to whether all countries are "normal," there are many different opinions, including our own. The Russian Federation is a country with a very large territory and a relatively small, aging population. And next is a giant with an unprecedented population in the world, an order of magnitude higher than ours. There may be no wars in the direct sense of the word - today people are afraid that "we will be squeezed out demographically."
- We have, as we know very well, a very large country with a very poorly developed infrastructure, especially in the Far East. And, if we finish talking to the end, very few people may want to move here.
As for the northeast of China, which borders on the Russian Far East, it is also a huge country. And also sparsely populated.
- Really? This is Manchuria ...
- Imagine, yes, and Manchuria, and not only - two districts. There 110 million people in total live.
- This is called "all"? Yes, it is almost the same as in the whole of Russia.
- We put, so. But there is enough space and work for everyone. There is not at all crowded, as we mistakenly think. They are actively developing their own territory, investing in roads, houses, and construction. What in Russia, by the way, is by no means done. Why from there specific Chinese to go to Siberia? He is also looking for where is better.
The main flows of Chinese migration are, firstly, internal, and secondly, to the USA and Canada, and to Europe. But if you look at the passenger traffic between the Russian Federation and the People's Republic of China, the number of Russians visiting China is almost three times the number of Chinese visiting Russia a year. Three times! So, if we talk about expansion, this is the expansion of Russian in China.
In the Far East of the Russian Federation, the proportion of constantly working Chinese among the population is 4-5%. This is about how in tsarist Russia.
- But this, apparently, official statistics. Probably a lot of unaccounted?
- This is not I invent, it is the conclusions of serious research. As for "demographic pressure", this is nevertheless an incorrect statement of the question, based not on an analysis of the situation, but on the interests of those people who throw it in. First of all, local authorities, which throw their inability to solve socio-economic and criminal problems to the Chinese. Nothing else is here.
- But still, a lot of Chinese people live and work here, including in the Moscow region state farms, for example, where, they say, they use predatory fertilizers. By the way, there is an opinion that the Chinese, who will live here for some time, sharply jump up the birth rate.
- Of course, they give birth, like others, like Muslims, and Caucasians. But this has nothing to do with our relations with China, nor with Russia's internal political stability. Muslims have a higher birth rate than the Chinese - and, with China, by the way, we have a visa regime, unlike Central Asia.
If it comes to that, then conversations like "the Chinese will come and everything will be captured" were relevant just about ten years ago. Since then, the topic has changed: they began to say: "the Chinese will come and buy everything."
- Well, in general, and not without it.
- And what's the difference who buys Americans or Europeans? All the same, all the dollars paid. They invest in our infrastructure, in Rosneft, build an oil pipeline - all this is in the interests of both partners, as I understand it.
As for the land near Moscow, there the Chinese work for the host. On the Russian owner, who is responsible for the land, including the methods of its processing, and for the fertilizers that are brought there. If the earth has no master, nothing will help.
In general, understand: the cooperation that is developing between Russia and China includes, inter alia, the cooperation of criminal structures of the two countries, as well as corrupt law enforcement agencies. This is not a question like "China vs. Russia" - it is a question of law and order. Question to those who should observe them.
Interviewed by Leonid Smirnov