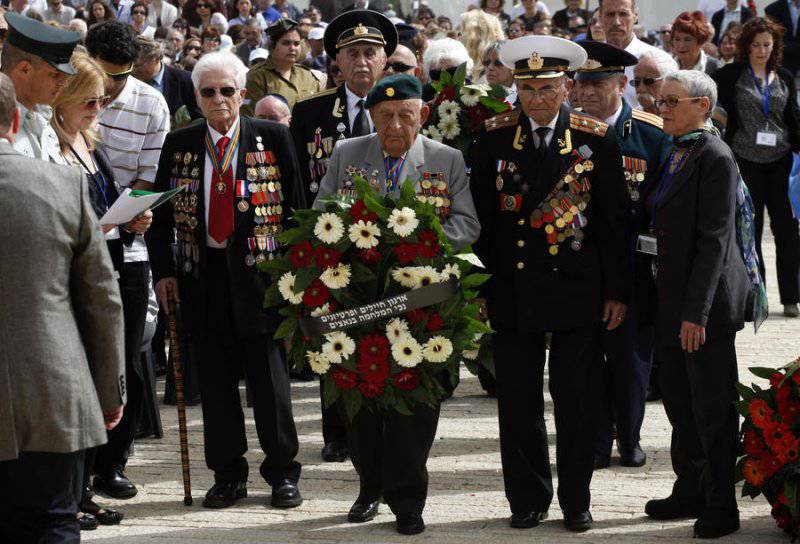 Once a year Israeli veterans who fought in the Soviet army during the Second World War put on military medals and went to the parade. And after that they return home, to their modest apartments, where they live alone and often in poverty.
"Solemn ceremonies are beautiful. People like to come and speak kind words. However, these words you do not put on a plate, - said Abraham Greenzaid, chairman of the All-Israel Union of Veterans. "The rest of the time no one thinks about us."
In total, the Soviet troops consisted of 500 thousand Jews, the majority of the living today - about 7 thousand people - are in Israel for permanent residence, reports InoTV, citing the Haaretz publication. The Union of Veterans has 50 offices located in different parts of the country. Now most of its members are about 90 years old, and they regularly come together.
However, Israel began to celebrate war veterans only in recent years, notes Haaretz. The main reason is that most of them arrived in the country no more than 20 years ago. Monument to Soviet Jews who participated in the Second World War, was erected here only last year.
Greenzide complains that some of the Soviet veterans' benefits are only $ 50 per month, which is no match for the financial support that Holocaust survivors receive.
Another problem is that few people in Israel understand the meaning of Victory Day for veterans. So, 87-year-old Matvey Gershman, wearing all his orders for the holiday, was ridiculed by local teenagers, who pointed at him with a finger and laughed.
"They perceived him as a clown," says daughter Matthew. - He no longer wants to go out with these medals, he is confused. They just do not understand what they are talking about. "