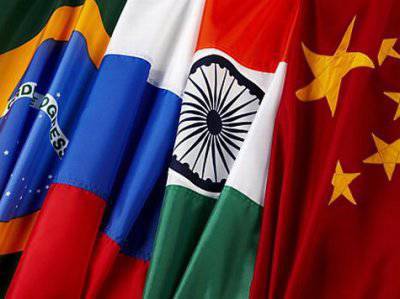 Not so long ago, VO talked about the new acronym MIST, which was invented by economist and market analyst Jim O'Neill from Goldman Sachs. To investors and those children who write geopolitical articles, was not boring, he gave the BRICS click to and brought to the economic and political world scene a new armchair creature of four letters. Of course, he took into account the fact that over the past year investors drowned away from funds BRICS 15 billion.
MIST is Mexico, Indonesia, South Korea and Turkey. O'Neill waved a BRICS handkerchief, that is, Brazil, Russia, India, China and South Africa (which is often excluded from the acronym; initially this country was not there) for a variety of reasons. Here you have the risks of authoritarian systems that give rise to political instability, raw materials dependence of Russia and Brazil, and a reduction in the population of Russia (according to Western forecasts, in the next 40 years it will shrink to 25 million people), and, finally, insufficient integration of BRIC into the world economy .
Another thing - Mexico and others like her.
The share of crude oil in exports from Mexico has decreased from 90% to 10%. In Indonesia, the chief economist at Goldman Sachs took the place of honor in the new "block" because ... it is rich in raw materials.
Turkey is good because its exports are 20%, and it has a high proportion of manufactured goods.
What is with South Korea is not entirely clear. Apparently, everything is good there. There was a German economic miracle, there was a Japanese, there was a South Korean - not as wonderful as the Japanese, but it was.
Economists - and even more famous economists - usually do not make unsubstantiated statements. Of course, the four countries named "united" not at the whim of O'Neill.
In February 2011, the company Goldman Sachs launched a project called the N-11 Equity Fund. His task was to invest in the economies of eleven developing countries, which include the four countries discussed above. From the beginning of 2012, the fund's return
made
12,0% versus 1,5% for a fund investing in four BRIC countries. Like this. 12 percent versus one and a half percent. And "political risks", authoritarianism, dependence on raw materials, etc., which economists broadcast with an ironic smile, are true for "hamsters" from the Internet.
If we talk about the political consolidation of Indonesia, Turkey, Mexico and South Korea (as opposed to the BRICS countries), then the possibility of such raises "vague doubts". However, the chief economist at Goldman Sachs, making his forecasts, hardly thinks about geopolitics. His first priority, whatever we think, is to reveal where the investments are "warmer".
Let's take Turkey as an example. Western analysts
count them.
that this country every year becomes more attractive to investors. Years through 10-11 Turkey can become not only one of the factory centers of the planet, where tens of billions of dollars of direct investments flow, but also become one of the five countries leading in the world in the field of tourism (it is expected that it will visit 63 million per year tourists). In addition, Turkey has a favorable geographical position - Ankara can use its proximity to regional markets. Here you will find the Middle East, Central Asia, the Balkans, Russia, and a significant energy market. True, unemployment among young Turks is high - right up to 25%, according to last year's OECD data. But investors do not care about unemployment - they are interested in return. In addition, the more investment, the more new jobs.
Investors have every reason to expect an acceptable rate of return from MIST, writes Natalia Trushina (
Bankir.Ru
). As an argument, the author cites the opinion of Alexandra Tarannikova, a specialist at the Expert RA corporate and investment ratings department, according to which Mexico, Indonesia, South Korea and Turkey can be included in the same chain, since these countries have similar macroeconomic parameters. Here and low debt load (the ratio of gross public debt to GDP is on average at 33%), and the absence of a problem budget deficit, and high GDP growth rates (for the period from 2006 to 2011, on average, plus 38%), and a high ratio investment volume to GDP (on average, about 27%). These characteristics make these countries attractive for investments - especially in conditions when the annual GDP growth rates in developed countries do not exceed 1,5%, and their national debt is comparable to the GDP volume.
As for BRIC, then analysts at Standard and Purs consider it to be from the point of view of investment, now there is only one letter left - K.
Observers of Finmarket, having read their report,
told
that Standard & Poors is confident that the BRIC concept is outdated. The four countries that have nothing in common were previously tied only by high growth rates, and at the same time great hopes for the future of their economies. This connection turned out to be not very strong, and hopes for the future, apparently, are ephemeral.
Kai Stukenbrock, Sebastian Briozzo and Kim Eng Tan gave an answer to the question of whether there is any logic in uniting the four largest developing economies into the BRIC bloc. Their conclusions were pessimistic. From an economic and investment point of view, according to analysts at Standard & Poor's, the BRIC countries are no longer united.
Here are some of their arguments:
a) China shows high growth and stability;
b) Russia's growth has slowed down too much after the 2008 crisis of the year due to numerous structural problems that have not been resolved today;
c) the main outsider of the block is Brazil. This country does not want to sacrifice stability for the sake of rapid growth. What do investors need? - we ask a question from ourselves. That's right: fast growth and profit.
According to economists, the BRIC concept does not exist as such. Analysts at Standard & Poor's, in terms of economic growth, GDP per capita and external balances, speak of China plus three.
In terms of GDP per capita in the four countries - a very different dynamic. China is showing steady growth in GDP per capita, and by 2015, this figure will be 9 times higher than in 2001. But Russia, on the contrary, first showed a rapid growth of GDP per capita, which happened against the background of rapid growth in commodity prices. But in 2008-2009. oil prices began to fall, and GDP per capita in Russia fell by 25%. Now per capita GDP is growing again, but not as fast as before the crisis. Probably, China is about to overtake Russia by this indicator.
In terms of real GDP growth, the same. China is ahead of all the other "members" of the BRIC.
Russia, the analysts report said, which performed well before the 2008 crisis of the year, slowed down. Growth over the next few years will be slightly higher than 3%. Approximately the same situation in Brazil. The growth of India is similar to the growth of China, but we must remember that the population of India is growing much faster than the Chinese.
In public finance, BRIC has two leaders. Both China and Russia have a good position with a low level of public debt. But there are serious problems.
"Russia, with its raw materials economy, had a huge surplus of the current account, but it is gradually decreasing due to the growth of domestic consumption. Russia has a huge trade surplus in terms of minerals and fuel, but in all other categories, including industry, its trade is in deep deficit.

China is also in a surplus situation, but it is declining. China has a reverse export situation: a huge surplus in industrial goods, but at the same time dependent on imports of commodities. "
If you carefully look at the excerpts from the report, it becomes clear: Western analysts are quietly playing the funeral march of Russia. The main theme of the march: "It's time for Russia to take up structural reforms."
The authors write that the Russian economy is extremely dependent on raw materials. Will commodity prices rise again as fast as they have grown in the past decade? If not, what will be the new source of growth for the Russian economy? The government, the report indicates, pursued a pro-cyclical fiscal policy, which in many ways was the basis of rapid economic growth. However, opportunities for fiscal stimulus are now significantly reduced.
In 2000-2008, government spending increased 10 times, and nominal GDP increased 8,5 times. The state's ability to pursue a stimulating policy is limited, this is illustrated by the example of the 2013 budget of the year, where expenses grew by only 3%: these are record low growth rates.
The growth of investment in fixed assets of large companies in Russia in 2013 will be small. This is one of the main problems of Russia - investments do not grow as fast as they need. They do not meet the needs of them, analysts say.
"Another problem is structural reforms. Russia needs measures to improve the business climate and fight corruption. If these problems are solved, the growth of the Russian economy will be higher, perhaps, 5-6%. "
However, other experts, writes Natalia Trushina (
Bankir.Ru
), they say: the fate of the new abbreviation "from the creator of BRIC" is unlikely to repeat the success of its first acronym.
Regardless of the consciousness of O'Neill, being put everything in its place. Jim protested against South Africa's accession to the BRICs, but BRIC turned into BRICS. The summits of the top five are held on an annual basis. In 2015, the country hosting the partners will be Russia.
According to Rodion Lomivorotov, head of the macroeconomic research department of OTP Bank, the feature of the BRIC countries is not only their impressive economic growth rates, but their size and degree of influence on the global economy.
For example, the rapid industrialization of China led to a significant increase in demand for commodities. China forms about half of all demand in the global metal market.
From MIST, only Indonesia and, perhaps, Mexico will have a significant impact on the global economy in the future, and that will be subject to successful economic policies. South Korea and Turkey may show rapid economic growth, but they are not so great. True, the growth potential of these economies in these countries is high enough that investors value. And investments in Turkey were really the topic of last year.
The share of GDP in each of the MIST countries already exceeds 1% of the global (Turkey - 1,1%, Indonesia - 1,2%, Mexico - 1,6%, South Korea - 1,6%). None of these countries will be able to press China or India, but they will be able to catch up or overtake Russia and Brazil in terms of the size of their economies.
The General Director of the FBK Economics and Law School, Sergey Pyatenko, believes that each of the countries of the two "fours" has much more national interests than points of contact with other countries. Some export hydrocarbons, while others import, some sell
weapon
and others buy.
The European Union went to the union about 50-60 years. BRIC is only at the beginning of the path, and MIST has not even begun its path. Let's see what will happen in 10-20 years. In the meantime, the prospects for MIST as a group fully correspond to the meaning of this word in the English language - "fog", the analyst sneers.
Observed and translated by Oleg Chuvakin
- especially for topwar.ru