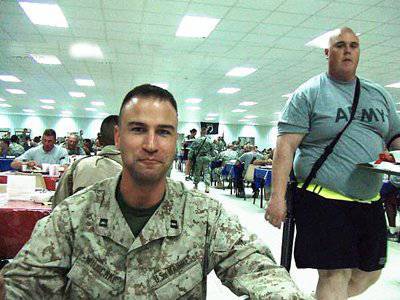 According to the Pentagon's report, more than half of all military personnel are overweight. At the same time, the military coast guard have the worst performance among all the armed forces. Overweight is recorded more often in men (more than half the time) than in women (just over one third of all female military personnel). The report emphasizes that the assessment of indicators of excess weight was carried out using the body mass index (body mass index), which does not take into account the presence of large muscle mass and therefore can give a higher (worse) result than it actually is.
Previously, the Pentagon, as an exception, admitted overweight people to military service if they were in good physical shape. Recently, however, the leadership of the Pentagon is trying to sift out the jocks from the marines, privates and sailors.
This is done not because such people are worse prepared, but for the sole reason that the average ordinary male will not be able to pull such a hundred-kilogram comrade from the affected area, even if the entire excess weight of the latter falls on muscle mass.
The report also cites some rather alarming figures related to alcohol abuse among the military. Neither more nor less - one third of the servicemen stated that they had participated in drunkenness over the past 30 days. At the same time, the worst indicators on alcohol abuse were recorded among marines: every second said that he had consumed alcohol in large quantities in the last 30 days.