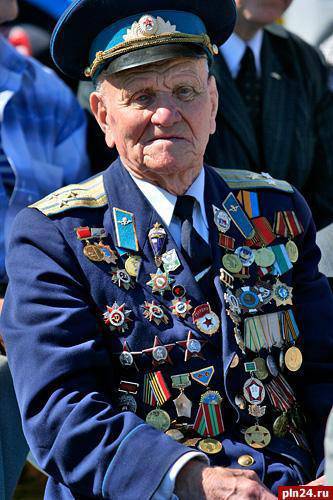 Aleksei Alekseevich Sokolov, the oldest Pskov paratrooper, died today. In March of this year, he turned 102 year. Last month, a veteran broke his thigh neck and went to the regional hospital. He could not cope with the injury.
The Governor of the Pskov Region Andrei Turchak expressed his condolences to the family of a veteran of the Great Patriotic War. In his telegram, he noted that "the name of Alexei Sokolov is familiar to people of different generations, those who honor the glory of the Russian army, for whom concepts such as honor and courage are very important. His biography is the best textbook of the centenary
stories
of our state, on whose pages military victories and labor feats of the Russian people in peacetime are recorded. "
By the way, the famous oldest paratrooper of the country only a year and a half ago became the owner of a comfortable one-room apartment. Lieutenant-General Vladimir Shamanov, commander of the Russian Airborne Forces, visited him for the housewarming party.
Help "RG"
Alexey Sokolov was born in 1911 in a large family of a postal employee. Out of 9 brothers and sisters, six took part in the Great Patriotic War, two brothers were killed. He graduated from 8 classes, received the profession of a locksmith. In 1933 he was drafted into the Red Army. The first duty station was the 14th
tank
the brigade. Passed the whole war.
But the tanker became a paratrooper after the victory, in 37 years. In 1948, the captain Sokolov was appointed deputy commander for the technical part of the 104 th parachute regiment of the 76 th Guards Chernigov Red Banner Airborne Division. His whole future life is connected with this regiment and division. "I happened to participate in three wars, in three horrors of war. Responsible, difficult time. Wars remained in the memory, and service in the airborne troops - in the heart," - said the veteran.
He was awarded the Order of the Red Banner, three Orders of the Patriotic War, the Medal For the Defense of Leningrad, the Order of Friendship of Peoples, and others.